Elon Musk's First Boring Machine Has Begun Tunneling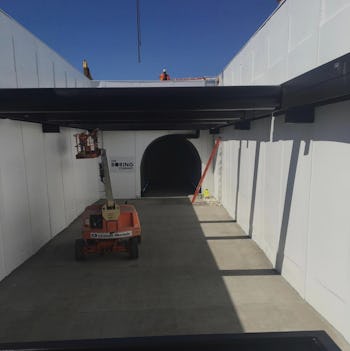 Instagram User: elonmusk
On Wednesday, Elon Musk announced that The Boring Company's first machine, whimsically named "Godot" after the play Waiting for Godot, has begun work in Los Angeles. When the tunnel's route is complete, it will run from the LAX International Airport to Culver City, Santa Monica, Westwood, and Sherman Oaks, and could help alleviate the city's notoriously terrible traffic.
"No longer waiting for Godot," Musk tweeted. "It has begun boring and just completed the first segment of tunnel in L.A."
The Boring Company intends to revolutionize city transit with a system of underground tunnels. If all goes as Musk plans, the tunnels will eventually be used for metro rail, hyperloop, and personal cars, the latter of which will be lowered into the tunnels on futuristic sleds that will transport the vehicles at 125 miles per hour.
At that incredible speed, a person could travel from Westwood to LAX in a mere five minutes; right now, it can take about an hour with traffic.
Musk announced the name of this first machine last month, tweeting, "Naming theme for tunnel boring machines will be poems & plays." He's really relishing the pun opportunities with this company; "boring" was apparently just the beginning.
Godot is "a few hundred feet long" and bores at a worse-than-sluggish pace: Last month Musk said that it moves 14 times slower than the company's pet snail, Gary. He reiterated that on Wednesday:
But it doesn't matter that Godot is slow, because the machine's going to (hopefully) create a tunnel that allows for seriously speedy travel. Stay tuned.