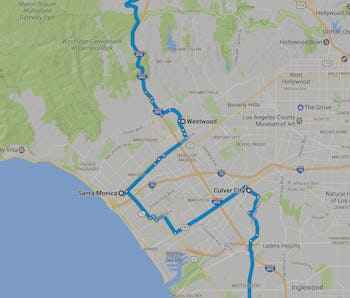 Innovation
This Map Shows the Tunnel Route of Elon Musk's Boring Company
Google Maps
Elon Musk dropped a ton of information about his new venture Friday morning, revealing his tunnel digging company's progress and future plans. The Boring Company has started work on a tunnel that will cover a large section of Los Angeles, with the end goal of expanding out into the greater metropolitan area.
The company's first tunnel will run from Los Angeles International Airport to Culver City, Santa Monica, Westwood, and Sherman Oaks. Elon Musk has revealed the starting tunnel is complete, ready for boring machine "Godot" to get started. The team is currently assembling the machine in the pit, and it's expected to take up "a few hundred feet" in length when ready to start.
As we don't know at this stage the actual positioning of the tunnels between points, we've had to use cycling directions to develop an approximation of how the points may connect. Here's the first route Musk's tunnel venture is tackling:
The whole route takes just over an hour to travel by car and covers some of the city's major highlights. Connections to the airport enable city visitors to try out Musk's tunnel for themselves, witnessing what could be the future of transport. On the north side, a crossing from Westwood to Sherman Oaks means bypassing the Westridge-Canyonback Wilderness park, which could go some way to reducing traffic noise in the area.
The company has already started testing a sled system that would lower cars into the ground on the tunnels, before pulling them along at speeds of up to 125 miles per hour. This would enable trips from LAX to Westwood in just five minutes.
The venture is aimed at solving congestion problems in major cities. Musk posted on his Twitter late last year about how Los Angeles traffic was frustrating him, and that he believed the solution would be to build more infrastructure under the ground. Later that day, "The Boring Company" had a name.
Of course, this is only the beginning. Musk envisions future tunnels that connect up greater Los Angeles, and he's spoken before about his dream of a fully connected network of tunnels that run as many as 30 tunnels deep under a city.