'Walking Dead' Actor Buys Elon Musk's Flamethrower Too Late to Kill Zombies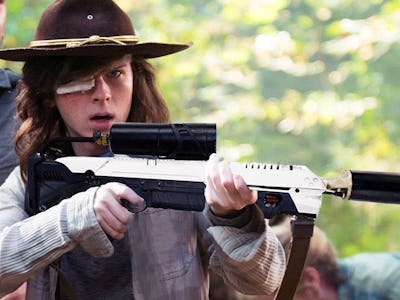 AMC
Tech entrepreneur Elon Musk is making flamethrowers because of a Spaceballs joke gone too far, and one of the first buyers is none other than Chandler Riggs of The Walking Dead. Unfortunately, it's a bit late for Carl to have a flamethrower, because he's dead.
On Sunday, Riggs told his fans on Twitter that he purchased a pre-order of Boring Company-branded $500 flamethrowers, limited to 20,000, which are now sold out. "i feel so satisfied yet so confused," Riggs tweeted, adding: "u can't even deny how cool this thing looks."
Sadly it's a bit late for Riggs, as his character Carl "Coral" Grimes is on his deathbed since the mid-season finale of The Walking Dead. The show's next episode, airing February TK on AMC, will be Riggs's last performance as Carl.
Whether or not Riggs did buy a flamethrower, which he swears he has, there really is a commercial flamethrower that looks like a rifle from Mass Effect. Musk, the tech investor and CEO of Tesla and SpaceX, is selling flamethrowers to raise money for The Boring Company, an infrastructure and construction company that aims to connect major cities with underground tunnels in which automobiles travel on specialized, high-speed skates.
Also, yes, the flamethrower is apparently legal, designed within Bureau of Alcohol, Tobacco, and Firearms regulations. "Our design is max fun for least danger," Musk alleged on Twitter. "I'd be way more scared of a steak knife."
After selling out $20 hats with The Boring Company's logo as the company's first major fundraising effort, Musk began making references to Spaceballs, the 1987 Mel Brooks comedy that spoofed the Star Wars merchandising empire, for his second fundraising effort. "Spaceballs: The Flamethrower!" Brooks yells in the film as Yogurt, the film's satirical take on Yoda. "The kids love this stuff."
At some point the joke became real, and The Boring Company actually produced 20,000 flamethrowers for the mass market.
The connection between Riggs and his flamethrower is especially interesting given Musk's previous tweets about starting a zombie epidemic to create demand for the flamethrower. He's joking, of course. At least we hope so.
The Walking Dead will return to AMC on February 25.