When Boring Company Will Start Digging Northeast Hyperloop, Gov Docs Reveal
It's sooner than you think.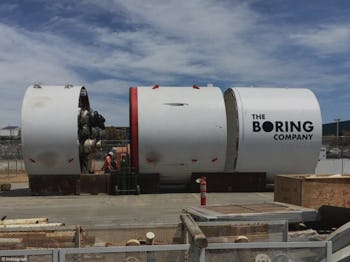 The Boring Company
The Boring Company is keeping quiet about exactly how the tunneling outfit will start building what CEO Elon Musk revealed earlier this year as a hyperloop running between New York City and Washington D.C. But documents from the Maryland government — the first state to grant the Boring Company a permit — offer some vital clues including the fact construction could begin as soon as next month.
The University of Maryland's Capital News Service obtained documents that reveal the terms of the conditional utility permit the state's Department of Transportation State Highway Administration granted the Boring Company in October. Signed by SpaceX employee Steve Davis, the conditional permit says construction is slated to begin in January 2018.
The documents show plans for a pair of 12.4-mile tunnels set to run beginning at a spot "immediately north of MD 175," a state highway southwest of Baltimore that intersects the tunnel's proposed route along the state-owned portion of the Baltimore–Washington Parkway.
The downtown terminus, at least according to the documents, is a spot within a quarter mile of the intersection of West Pratt and South Paca Streets.
For those not familiar with the specifics of the city's geography, that's right next to Camden Yards, the home of the Baltimore Orioles. I guess we now can't officially rule out the possibility Musk's entire scheme is just a way to simplify the commute between Orioles and New York Yankees games.
The Capital News Service report does flag one potential unresolved issue: Just what is the Boring Company planning to put in those tunnels? While Musk's original tweet announcing the project mentioned "verbal govt approval" for a hyperloop that could reach 760 miles per hour, the permit suggests the tunnel will use the company's electric sleds, which top out at 150 miles per hour — still fast, but not "29 minutes between DC and Manhattan" fast.