Elon Musk to Start Hyperloop Project in Maryland, Officials Say
This is the first step to making the hyperloop a reality.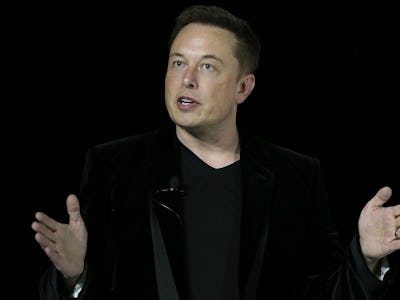 Getty Images / Justin Sullivan
Elon Musk's proposed hyperloop route connecting New York and Washington, D.C., took its first concrete step toward becoming a reality Thursday. Maryland Governor Larry Hogan has issued a conditional permit to Musk's Boring Company to build a 10-mile tunnel beneath a portion of the state's Baltimore-Washington Parkway.
Musk had announced on Twitter back in July that he had received "verbal approval" for a 225-mile hyperloop route linking Washington, Baltimore, Philadelphia, and New York in just 29 minutes.
At the time, no federal or state officials came forward with public support for the project. As The Baltimore Sun reports, Maryland becomes the first state to do so, with Maryland's transportation secretary suggesting the Boring Company would begin construction with initial 35-mile tunnels between Washington and Baltimore, which is the shortest of the distances between the four proposed cities.
Governor Hogan posted to Facebook his tour of the planned tunnel site with Boring Company officials.
That the state of Maryland can only grant a permit for 10 miles worth of tunnel illustrates the complexity of building a hyperloop along the Northeast Corridor. The federal government owns the remaining 25 miles of the Baltimore-Washington Parkway, meaning the Boring Company would need to get separate permission to do any construction there — to say nothing of agreements that will need to be struck with local, state, and federal officials in New York, New Jersey, Pennsylvania, and the District of Columbia.
The Boring Company has yet to offer further comment on the project, and Thursday's permission doesn't mean there's a specific timeline for construction. Who would provide the billions of dollars it will take to build the hyperloop also remains a major unanswered question — Maryland officials have said they do not intend to contribute funding, at least not at this time.
For now, Maryland officials say the hyperloop is essentially a public utility, meaning they can permit the construction of a tunnel below state-owned roads in much the same way an electric company could place power lines. Any hyperloop project will also likely deal with an environmental and safety review, though there were also no details available on this as of Thursday's announcement.