Elon Musk Just Said the New York-DC Hyperloop is Coming
He tweeted the news Thhhursday.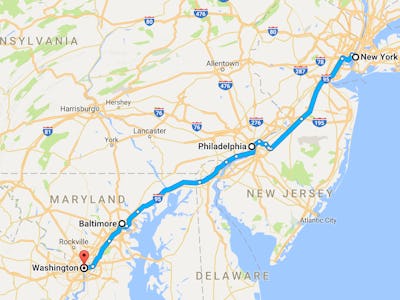 Google Maps
Elon Musk revealed Thursday that he has received "verbal government approval" to build a hyperloop from New York City to Washington, D.C. The futuristic train system, which will be built by Musk's Boring Company tunnel-digging venture, will cut travel time between the two cities to just 29 minutes.
"Just received verbal govt approval for the Boring Company to build an underground NY-Phil-Balt-DC Hyperloop," Musk posted on his Twitter page Thursday. He added, "NY-DC in 29 mins. City center to city center in each case, with up to a dozen or more entry/exit elevators in each city."
If built, the service would dramatically decrease journey times. It currently takes around four hours to drive the 226 miles between the two cities, while train travel takes around three hours. A 30-minute commute time would mean D.C. residents could commute to NYC and vice versa, though the actual cost of doing so remains uncertain.
Musk said that the new route would start in parallel to The Boring Company's first project, a tunnel under Los Angeles aimed at alleviating urban congestion. After these two projects are complete, Musk suggested that the company could start construction on a hyperloop in Texas, as well as a tunnel from Los Angeles to San Francisco.
The announcement was met with some skepticism:
"Still a lot of work needed to receive formal approval, but am optimistic that will occur rapidly," Musk said.
What verbal approval from the government means is also not clear. This could mean anything, from Musk feeling confident the Department of Transportation or another government agency is close to signing off on this, or President Donald Trump heard the idea in conversation with Musk and said he liked it — though Musk probably wouldn't go public if it were just the latter. However, the key word here is "verbal"; this shouldn't be considered a serious ongoing project until a contract is signed.
Musk has generally spoken of the Boring Company as a back-burner pursuit compared to SpaceX and Tesla. In a TED conference interview in April, Musk said that the company — which recently completed the first section of its test tunnel beneath SpaceX's headquarters in Hawthorne, California — takes up "maybe 2 or 3 percent" of his time.
"This is basically interns and people doing it part-time," Musk said then. "We bought some second-hand machinery; it's kind of puttering along, but it's making good progress."
And this week, Musk said the Boring Company project was a "low-stress" part of his job.
Previously, Musk talked of the Boring Company tunnel as an intracity, not intercity, project, suggesting one would run from Los Angeles International Airport to Culver City, Santa Monica, Westwood, and Sherman Oaks. Musk has said he wants his boring machine, named "Godot," to be part of a process that speeds up tunnel-digging by a factor of 10 over traditional subway-digging processes. Part of that was designing Godot to do continuous digging and reinforcing of the tunnel walls, and beefing up the power of the machine.