Elon Musk Slams 'Crazy Low' Spotify Payout to Artists Like Grimes
Musk is unimpressed by the music industry.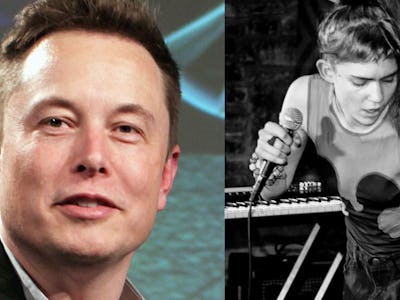 Wikipedia
Elon Musk criticized the "crazy low payout" from music streaming services to labels on Wednesday, amid a discussion about the best way to listen to Grimes' music. Musk appeared together with Grimes at the Met Gala in New York City on Monday, and their newly-revealed relationship has already sparked internet memes and discussions around artificial intelligence.
Musk revealed on Twitter that his two favorite songs from the synth pop artist are "Kill V Maim" and "Flesh Without Blood" from the album "Art Angels" — the latter of which has a music video that alludes to the Roko's Basilisk theory of artificial intelligence. The Tesla and SpaceX CEO shared a link to the album on Spotify, but when a Twitter user called "MarinPilates" asked in response whether it was better to stream or purchase, Musk shared a Statista chart that "shows how crazy low payout is to labels & the artists only a small fraction of these numbers"
The figures make for grim reading, particularly as this is only a cut that makes it to the label responsible for the artist. The actual figure that reaches the musician's bank account is far smaller. Music Business Worldwide explained last month how the average streaming royalty rate for an artist signed to a major record label is somewhere between 18 and 19 percent of the profits the label takes from the streaming service. That accounts for both high-margin catalog deals and low-margin frontline artist deals.
Tesla has been rumored to be exploring a digital music streaming service for its electric vehicles in June 2017, with sources claiming the company "is interested in offering multiple tiers of service, starting with a Pandora-like web radio offering." While the company reportedly held talks with major labels about establishing such a service, it's unclear whether the project is still under consideration. Also unclear is what sort of royalty rates Tesla would offer.
As Musk takes to sleeping in the Gigafactory to ensure speedy production of the Tesla Model 3, it's unclear whether he has the time right now to also focus on disrupting the music industry. Wednesday's comment suggests it is an area of consideration for him, though.
It's what fans are calling out for — a Twitter user called Trent Eady responded to Musk's tweet by saying "I hope Tesla Music is real."