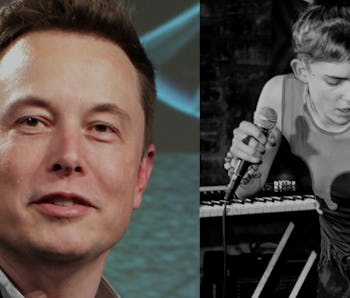 Culture
Elon Musk and Grimes at the Met Gala Sparked a Good Many Memes 
United over jokes about artificial intelligence, the pairing was too good for the internet to resist.
Wikipedia
Elon Musk and synth pop artist Grimes, united over bad jokes about A.I., appeared together on Monday night at the Met Gala in New York City, and amongst the very good tweets were variations on a meme around the bizarre cultural moment that saw Musk and Grimes together in New York.
Here is how the internet reacted to this weird moment.
Another user gave an interesting analogy on how to describe the new couple.
This user explained the love story between Musk and Grimes in just four panels.
A Twitter user gave an example of a conversation between Musk and Grimes based on a news headline.
Finally, one user threw in some choice comments made by what appears to be singer Demi Lovato regarding the new couple.