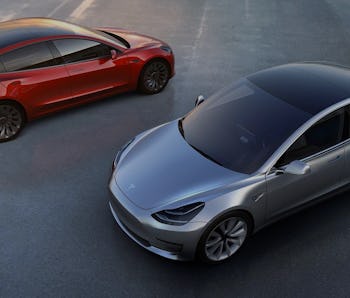 Innovation
Elon Musk's Stats Suggest Tesla Model 3 Orders May Arrive Sooner
Tesla
Your Tesla Model 3 order could come sooner than expected. CEO Elon Musk shared some statistics about the upcoming car's production on Sunday, and it reveals the company is moving ahead with its production goals at incredible speed. The company has a major backlog of orders to work through, and new orders aren't expected to arrive until mid-2018 at the earliest, but Musk's latest report suggests all is not lost for people who want to order a new Tesla Model 3.
First, some background. Tesla has taken over 400,000 deposits for the Model 3, representing a production rate that far exceeds the company's current output. In the first quarter of this year, Tesla produced around 25,000 cars, meaning the company will produce around 100,000 cars per year. That's not good enough to meet the high demand for the upcoming $35,000 car, priced far cheaper than any other car the company produces.
Tesla has claimed before that Model 3 production would reach 250,000 cars annually by the end of 2018, averaging out to around 4,800 cars per week. In February, the company revealed a more ambitious goal: It will produce 5,000 Model 3 vehicles per week in the fourth financial quarter of 2017, with production increasing to 10,000 vehicles per week sometime in 2018.
It sounds too good to be true, but on Sunday Musk revealed that the company is already meeting its other goals that he thought were impossible, and reiterated that the company will increase production at an incredible speed.
Not only that, but Musk claimed that Tesla will reach 20,000 Model 3 cars per month by the end of December.
Musk has made bold claims in the past, but with Model 3 production he's already delivering the goods. The company has already beaten its own expectations by meeting the company's "impossible" goal of starting Model 3 production by the start of July. The Model 3 is going to start production to a schedule even Musk considered unlikely.
Tesla is ramping up production to meet these demands. Thanks to the Gigafactory, a 5.8-million square foot factory under construction in the Nevada desert, the company is taking necessary steps to increase its production capacity.
If this rate holds true, the company's previous goal of 4,800 cars per week by the end of 2018 will look miniscule by comparison. The recent claim of 10,000 per week seems more realistic than ever before, and that's great news for people who want their car as soon as possible.