Elon Musk Reveals Why He Cut Off 'Dry' and 'Boring' Tesla Questions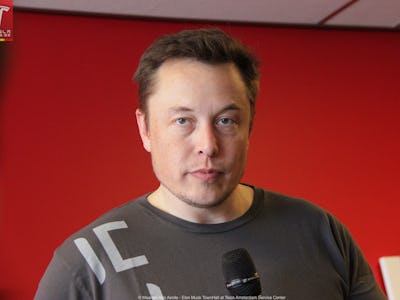 Flickr / TeslaClubBE
Elon Musk explained on Friday why he cut off some of the automotive industry's biggest analysts during a conference call. The Tesla CEO shocked listeners this week when he interrupted questions during the company's first-quarter earnings call, dismissing them as "boring," "boneheaded" and "so dry" — but to Musk, Bernstein analyst Toni Sacconaghi and RBC analyst Joseph Spak were only trying to justify their negative positions.
In the dead of night — 2:20 a.m. Pacific time — Musk responded on Twitter to tech YouTuber Marques Brownlee, explaining why he stopped Spak to take a crowdsourced question from Galileo Russell, a writer at SeekingAlpha and CEO of Hyper Change TV. Musk explained that the two analysts are "actually on the opposite side of investors" due to their interest in proving their negative thesis, so he switched to Russell. At 5:05 a.m., he continued by describing Tesla stock as "the most shorted (meaning most bet against) stock on the market & has been for a while":
See also: Elon Musk Explains How Teslas Might Connect to SpaceX Internet Satellites
Russell's question, which focused on plans to implement an autonomous taxi service similar to Waymo, was the result of a concentrated four-day campaign to change the quarterly update. Earnings calls normally focus on sell-side analysts, but Russell called on over 150 shareholders representing $18 million worth of shares to persuade Musk to invite him on the call to represent retail investors. Rob Maurer, producer of the Tesla Daily podcast, told Inverse this week that the campaign was important because many of these investors "have investment time horizons of a decade or more."
Traditional analysts were not impressed by the transition. As Musk interrupted Spak's question about the number of people that have completed a full order of the Tesla Model 3, market watchers noted the stock fell 4.7 percent in after-hours trading that represented a $2.4 billion loss of market cap. Morgan Stanley analyst Adam Jonas described the call and its interruptions as "arguably the most unusual call I have experienced in 20 years on the sell-side" in a post-earnings note.
Tesla is scheduled to produce its next earnings report in three months' time, where it will likely provide more information about the state of Model 3 production. While the transition was criticized in some circles, Musk described the crowdsourced question itself as "interesting" and Bloomberg reporter Tom Randall described it as "a cool idea."
Musk could repeat the idea for the following call.