Chicago Picks Elon Musk to Build 100 MPH Airport Transit Tunnels
Musk's company promises a 12-minute trip between the airport and city center.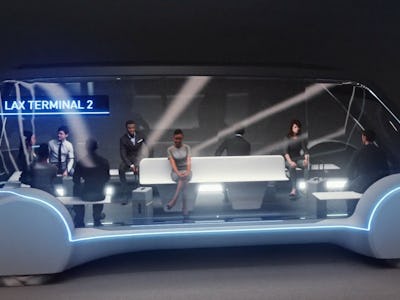 Gridlocked traffic in Los Angeles inspired Elon Musk to start the Boring Company, his answer to the subway, but it appears as if Chicago will be the first big city to host a highly trafficked Boring Company tunnel. It's a major vote of confidence for Musk's unproven enterprise, and for Chicago, it's a hopeful step toward a future without soul-crushing airport traffic.
The office of Chicago Mayor Rahm Emanuel has announced that the city picked the Boring Company to build and operate an express service transport system between O'Hare International Airport and Block 37, an urban mall in the Loop area of the city's downtown that's also home to one of its busiest transit hubs on the "L," the city's rapid transit system.
Musk's system consists of 16-passenger pods (photo below) that travel through one of two underground tunnels (one to accommodate each direction). The pods are promised to depart every 30 seconds or so. "This transformative project will help Chicago write the next chapter in our legacy of innovation and invention," said Emanuel in a statement sent to Inverse ahead of the announcement. The projected route travels northwest from downtown along public way alignments, but the actual route will be finalized during contract negotiation, reads a statement for the city.
The Chicago Tribune reports that the project will cost less than $1 billion.
Musk publicly threw his hat into the ring for the project in November, via this Twitter post. Back then, he said the Boring Company would compete to build a "high-speed loop" which he later described as an underground tube that doesn't have the air sucked out with a vacuum, reasoning that you "don't need to get rid of air friction for short routes." Speeds are projected to hit 100 miles per hour for the Chicago pods, resulting in 12-minute trips between the Loop area of downtown Chicago and O'Hare. By car, the trip is 16 miles and takes about 21 minutes in good conditions.
Also announced today: The mayor's office confirmed that the project will be paid for without taxpayer money and that the service will be "funded solely by project-specific revenues and financed entirely by the developer."
In Los Angeles in May (photo below), Musk told people at a gathering for a different Boring Company proposal — he has plans for a tunnel there, too — that fares would be less than a bus ticket, or about $1 per ride. In Chicago, the trips would cost between $20 and $25 per ride, the Tribune reports.
The Boring Company beat out one other finalist for the project to solve the city's bulging traffic problem for downtown-to-airport trips. Some 20,000 people a day move between the two points, and the city projects that figure to grow to 35,000 by 2045.
Chicago leaders now must begin contract negotiations with the Boring Company, and once there's an agreement on cost, a timeline, and other matters, the deal will have to be approved by the city council.
Notably, the passenger pods won't emit carbon. Musk, CEO of Tesla, the company started to make electric cars which has since expanded into residential and utility scale solar power generation, is adamant about using only sustainable energy. That ideally means solar power to batteries, but no proposal was included in the announcement. The exception would be the rocket fuel used in the boosters built by SpaceX, his aerospace company.
Musk first began seriously talking about an underground network of tunnels back in January 2016. Then, he told students at a hyperloop passenger pod competition: "It's not that hard, but if you have tunnels in cities, it would massively alleviate congestion. You could have tunnels at all different levels, you could have 30 layers of tunnels and completely relieve the congestion problem in high-density cities. So, I highly suggest tunnels."
A little less than a year later, in December 2016, Musk brought up the idea again: "Traffic is driving me nuts," he complained on Twitter.
"Am going to build a tunnel boring machine and just start digging." Later, he gave his company its name: "It shall be called 'The Boring Company.' Boring, it's what we do." In April 2017, Musk revealed this stunning concept video that shows the vision he plans to execute.
Progress on test tunnel continued through 2017, raising money with Boring Company hats and Boring Company-branded flamethrowers. Musk has branded the shorter tunnel a "loop" and said in another tweet that "loop" tunnels — where a vacuum tube isn't required — can be connected like a subway system between cities: "A cool thing about the design is that's easy to incorporate branch loops to serve small to mid-size cities without slowing down the main loop at all."
More Boring Company stories:
Elon Musk Wants to Build a Tunnel from Downtown Chicago to O'Hare (November 2017)
How Elon Musk Plans to Make Tunneling Ten Times Cheaper
With the Boring Company, Elon Musk Finds Himself in an Unusual Position
Elon Musk Says Boring Company Will Offer Free Rides to the Public This Year