Tesla Shareholders to Decide on Elon Musk $2.6 Billion Plan: What to Know
A big meeting is about to happen.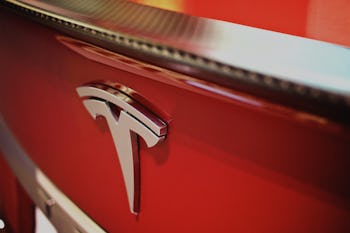 Flickr / cchana
Tesla's shareholders are about to decide whether to roll out a $2.6 billion reward plan to its superstar CEO Elon Musk, with a meeting behind closed doors on Wednesday in Fremont, California. The package, which pays out in 12 stages, is an unprecedented effort to get Musk to remain in position for the coming 10 years.
It's no secret Musk has a lot of interests, with SpaceX aiming for a manned mission to Mars, Neuralink hooking up brains to computers, and The Boring Company seeking to build a vacuum-sealed hyperloop transit system. Tesla's package would dangle a big carrot in front of Musk, paying out one percent of the company's current total outstanding shares for each of the growth and operations-focused milestones he achieves. Musk would have to serve as either CEO, or executive chairman and chief product officer at the same time, to receive the payments. Little wonder Tesla is considering a package dubbed by Bloomberg as "arguably the largest-ever of its kind."
Musk didn't actually found Tesla — Martin Eberhard and Marc Tarpenning incorporated in July 2003 — but he helped bring the company to its current place as a key driver of the electric vehicle market. Leading the series A funding round worth $7.5 million in 2004, Musk was made chairman of the board and promoted to CEO in 2008. Eberhard described him as the first person that really understood Tesla's goals in its early days.
Losing Musk would be a very public setback for the business. Tesla's CEO can be seen on Twitter at all hours of the day, promising voice activation for the $35,000 Model 3, updates to the autonomous driving system, and even a software update to change the position of the steering wheel.
Shareholders will decide at a 9 a.m. Pacific time meeting whether to give Musk his plan. If investors holding the majority of shares (excluding Musk and his brother) vote in favor, it could repeat the success of the previous plan in 2012. Investors could choose to vote against a costly plan that suggests an overreliance on Musk, though.
Getting support is just one part of the mission, though — for the full payout, Musk will have to increase Tesla's market cap from $50 billion to $650 billion, more than Facebook and close to the approximate $750 billion of companies like Microsoft, Apple and Amazon.