Elon Musk Hints at Major Tesla Model 3 Voice Command Upgrades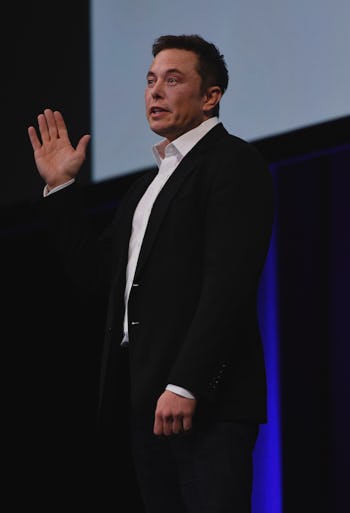 Getty Images / Mark Brake
The Tesla Model 3 is about to get some big voice command upgrades. The $35,000 electric vehicle, which launched last summer, ditches many of the controls and indicators found on a regular car in favor of a giant touchscreen in the center of the dashboard. CEO Elon Musk told a follower on Twitter late Sunday evening that this control system is about to get a whole lot smarter.
"Can we look forward to more voice control before level 5 [fully autonomous driving] to maximize safety while driving?" said Twitter user Tyson Edwards. "Since nearly everything you control on the Model 3 requires input on the screen. Thus, taking your eyes off of the road more than most other cars. Can't wait for mine! Thanks!"
"Definitely," Musk said in response. "You will be able to do pretty much anything via voice command. Software team is focused on core Model 3 functionality right now, but that will be done soon, then we will add a lot more features."
Tesla's voice activation system, also present on the Model S sedan and Model X sports utility vehicle, today allows for a number of limited commands by pressing and holding a button on the steering wheel. Users can control audio, place a call, and start navigation directions without interacting with the central control screen.
The company has hinted before that it plans to radically expand this feature's capabilities. Customers that order full self-driving capability when purchasing their vehicle, a feature set to ship at a later date once development has completed, can expect to use voice commands to tell their car where to go. From the company's description of the feature:
All you will need to do is get in and tell your car where to go. If you don't say anything, the car will look at your calendar and take you there as the assumed destination or just home if nothing is on the calendar. Your Tesla will figure out the optimal route, navigate urban streets (even without lane markings), manage complex intersections with traffic lights, stop signs and roundabouts, and handle densely packed freeways with cars moving at high speed. When you arrive at your destination, simply step out at the entrance and your car will enter park seek mode, automatically search for a spot and park itself. A tap on your phone summons it back to you.
While Tesla may also bring Musk's expanded voice commands over to the Model S and X, they take on more importance with the Model 3. As the company's entry-level vehicle, Tesla removed a number of features found on standard cars to save money. Instead of a speedometer behind the wheel, for example, the Model 3 places the car's current speed on the driver's side of the central panel.
It's not the only electric car maker exploring voice commands. Ludic Motors, which is currently developing the Air luxury electric vehicle, plans a number of voice actions that could include changes to the car's handling and suspension mid-drive. The race is on to create the all-listening car of the future.