The Tesla Model 3 Delay Timeline: How It Got to 6 Months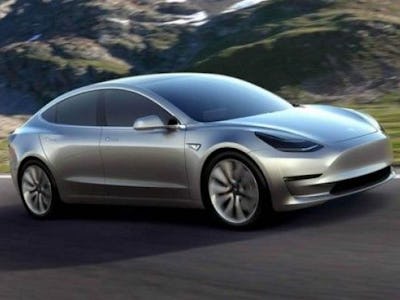 Flickr / automobileitalia
The Tesla Model 3 isn't rolling off the production line as fast as Elon Musk would have hoped. The company produced 2,425 Model 3s in the fourth quarter, good for 202 a week — a far cry from 5,000 per week projected six months ago.
On Wednesday, the electric automaker delivered its fourth-quarter car production & delivery report, and announced that its 5,000-per-week production prediction for the Model 3 would be hit halfway through 2018, about six months after its original prediction of the end of 2017.
"During Q4, we made major progress addressing Model 3 production bottlenecks, with our production rate increasing significantly towards the end of the quarter," the company writes in the report. "In the last seven working days of the quarter, we made 793 Model 3's."
After the news, Tesla stock dropped by 2.29 percent in after-hours trading, to around $317 per share.
"As we continue to focus on quality and efficiency rather than simply pushing for the highest possible volume in the shortest period of time, we expect to have a slightly more gradual ramp through Q1, likely ending the quarter at a weekly rate of about 2,500 Model 3 vehicles. We intend to achieve the 5,000 per week milestone by the end of Q2," reads the press release.
Here's a timeline of the Model 3 production push-backs:
"We are definitely on track"
Things started out fine: In June 2017 during the annual meeting Tesla shareholders, CEO Musk told everyone, "We are definitely on track to deliver the first production Model 3 next month." He did warn there would be a long wait for the car, but blamed that on the incredible number of reservations that had been placed. "If you put a deposit down on Model 3 now, it's probably – well, it's going to be over 1 year," he said. "End of next year before you get it, something like that. On the other hand, there are more and more deposits every week. So if you want it, then definitely put down the deposit. The line isn't getting shorter."
"Looks like we can reach 20,000 Model 3 cars per month"
In July 2017, about a month after its annual meeting of its stockholders, Musk predicted about 5,000 Model 3s would be assembled a week by December. He even tweeted the company could be able to produce 20,000 Model 3s a month.
"Our production ramp will follow an S-Curve"
In August 2017, after the second-quarter earnings call report, several questions about the Model 3 loomed. The company declared at the top of its letter to shareholders this: "Model 3 production on track to achieve previously announced targets." The company did subtly remind customers of a wait, though: "It's important to understand that our production ramp will follow an S-Curve, meaning that it will begin slowly, grow exponentially, then start to tail off once we achieve full production."
Here's a graphic of that S-Curve showed during the Model 3 handover event on July 29:
"We had a subcontractor … that unfortunately really dropped the ball"
In November 2017, the bad news hit. Tesla's third-quarter earnings report and subsequent conference call with investors revealed that delays related to manufacturing, specifically robotic manufacturers, had brought things to a near-halt.
"There's vastly more automation with Model 3," Musk said during the call. "Now the tricky thing is that when one automation doesn't work, it's really harder to make up for it with men and labor. So with [Tesla Model] S or X, because a lot less that was automated, we could scale up labor hours and achieve a high level of production."
He continued: "We had a subcontractor, a systems integration subcontractor, that unfortunately really dropped the ball, and we did not realize the degree to which the ball was dropped until quite recently, and this is a very complex manufacturing area," Musk said. "We had to rewrite all of the software from scratch, and redo many of the mechanical and electrical elements."
Musk and other Tesla executives remained outwardly optimistic about production hitting original targets (5,000 Model 3s a week) by the end of March, though. And beyond that, rates would only increase — once the robots were fixed, of course.
"We are pushing robots to the limit in terms of the speed that they can operate at, and asking our suppliers to make robots go way faster, and they are shocked because nobody has ever asked them that question," Musk said. "It's like if you can see the robot move, it's too slow."
"Stick by us"
The company didn't exactly apologize on a Wednesday for the delay in delivering its much-hyped Model 3, though:
"We're very grateful to everyone at Tesla who has poured their heart and soul into helping with the Model 3 ramp and creating the progress we are seeing. We're also very appreciative of our Model 3 customers, who continue to stick by us while patiently waiting for their cars."
Delays aren't new for Tesla, which blamed in April 2016 the setbacks in producing its Model X SUV on "hubris."
What's Next
You can still reserve a Model 3 for $1,000 on the Tesla website. The company doesn't officially release reservation numbers, but Musk said in August the figure was around 455,000 for the $35,000 electric car that Tesla wants customers to view as a stripped-down Model S, its luxury model that starts at $68,000.
The date for Tesla's Q4 and full 2017 financial results report and conference call has not been set but it usually occurs during the last week in February.