5 Big Questions About Tesla's Future After the Model 3 Launch
Tesla's been busy, but so has Musk.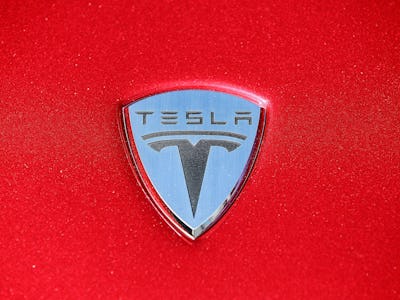 Getty Images / Justin Sullivan
On Wednesday, electric automaker Tesla reported its second-quarter earnings to shareholders. It's been a big quarter for CEO Elon Musk: just days prior, Tesla started deliveries of its $35,000 Model 3, ushering in a new era for the automaker. But questions remain as to whether Musk can pull off his ambitious "Master Plan, Part Deux."
Beyond the Model 3, Tesla has an ambitious plan for more products: There's a Tesla semi-truck, the Tesla Model Y, three more Gigafactories, a residential solar business, and a utility-scale solar business. All help Musk push toward his goal of a renewable energy future.
Here are the five questions about Tesla's future.
When is the Model 3 coming?
The Model 3 has started shipping, but that doesn't mean reservation holders can expect to receive their vehicle any time soon. The first models shipping are premium-packaged long-range editions, with the standard $35,000 models coming later this year. Right-hand drive markets like the U.K. won't receive their orders until 2019. Tesla plans to reach a production rate of 10,000 cars per week by 2018 and 5,000 cars a week by the end of 2017.
"We're building the cars as fast as we can," Musk said at the Friday handover of the first 30 Model 3 vehicles. "There are 10,000 unique parts in the Model 3, and these are coming from all over the world. About two-thirds from North America, about a third from the rest of the world."
Any slowdown in the supply chain will have a knock-on effect on the planned expansion:
There is another factor that could shape Model 3 delivery times: the Gigafactory.
How is Gigafactory construction going?
The 5.8-million square foot factory under construction in the Nevada desert is critical to the company's expansion. When fully operational, Musk claims it will produce more lithium-ion batteries than the rest of global production combined.
The Gigafactory is critical to the company's expansion. With construction costs exceeding $1 billion, and plans to build three more Gigafactories, it's a major project taking up a lot of resources. To Musk, it's a product in and of itself.
"There's a lot more automation [manufacturing the Model 3] than there is for S and X. We have the Gigafactory [making] powertrains, power electronics, charger, a few other things. That's a huge asset," Musk said during an earnings call in February. "I also refocused most of Tesla engineering into designing the factory — in the future, the factory will be a more important product than the car itself."
What is happening with the solar roof?
News on the solar roof has been quiet since the Tesla solar roof price was announced and went up for pre-order in May. Tesla only opened up orders for the textured and smooth styles, but within days it emerged that Tesla had already sold out of both styles well into 2018. Initial pre-orders are expected to start shipping this year.
Tesla is expected to start taking pre-orders for Tuscan and slate styles in November, but buyers will be keen to find out more about whether there has been any delays. It seems like a small product launch, but it's a key element of Musk's plan offer a way to move to using only renewable energy, and power from a solar roof could charge your Tesla battery in the garage.
"We're very confident that a solar glass roof will be less than the cost of a normal roof plus the cost of electricity," Musk said during a TED conference in April. "This will be economically a no-brainer, we think it will look great and it will last."
Is Elon Musk enjoying his role as CEO?
"I really wouldn't recommend anybody start a car company," Musk joked earlier this month. "It's not a recipe for happiness and freedom."
Besides making cars and solar energy, Musk has a lot on his plate. Alongside his role as CEO of Tesla, he's the founder of space exploration company SpaceX, co-chairman of OpenAI, CEO of Neuralink, and CEO of The Boring Company — which he says only takes up 2-3 percent of his time. Just one of these would be a strain for anyone, but Musk seems unfazed by the workload.
"I intend to stay with Tesla as far into the future as I can imagine and a lot of exciting things that we have coming," Musk said at the TED conference in April. "We've got obviously the Model 3 that's coming soon. We'll be unveiling the Tesla Semi Truck."
Not everyone agrees Musk should stay. In a July op-ed, Wired argued that Musk should step down from Tesla, arguing that he "possesses far too much talent and ambition to run an automaker."
Is there any news about the Tesla Model Y?
News has been rare about Tesla's planned crossover SUV, which will likely complement the Model 3 on the entry-level side of Tesla's business.
"I think we need to come out with the Model Y sometime in 2020 or aspirationally late 2019," Musk said in May during the previous quarter's earnings call. "And then I think that a million units is quite likely, combined, yeah. Maybe more."
Alongside further details about where the vehicle will be built, investors will want to hear whether Musk is coming close to making a decision about a location for the Model Y factory.