Tesla Model Y Suitors Will Meet Elon Musk Today at Governors Meeting
The Tesla CEO will talk about innovation with America's governors.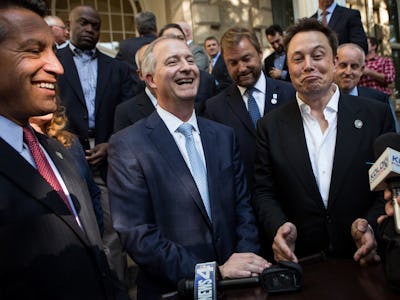 Getty Images / Max Whittaker
With speculation creeping in about which state Tesla will pick for its Tesla Model Y production plant, CEO Elon Musk will have the perfect audience on Saturday in Rhode Island at the National Governors Association meeting.
Musk will appear alongside Nevada Governor Brian Sandoval for the closing session of the two-day annual event, in a conversation billed as "Ahead of the Curve: Innovation Governors." Musk is going as the guest of Sandoval, whose state offered Tesla $1.3 billion in tax breaks if it built the Tesla Gigafactory outside Reno. The partially completed facility will be the largest in the world when finished and will produce 35 gigawatt hours of batteries by 2020.
"We actually did the calculations to figure out what it would take to transition the whole world to sustainable energy. You'd need 100 Gigafactories," Musk famously told Leonardo DiCaprio in climate change film Before the Flood.
As for Saturday, Musk is expected to talk about how the Gigafactory deal came together.
"I'm honored to speak with the nation's governors and highlight the important work Governor Sandoval is doing in Nevada and with the National Governors Association," Musk said in a statement when the news was announced in June. He should be honored, as there's a significant financial gain for Tesla if it can secure Nevada-level tax incentives from the state that is chosen to make the Model Y — so far only seen in a teaser image — or even a Gigafactory in the future.
CNBC reported this week that "western states, including California, Texas, Nevada, New Mexico and Arizona, are likely to make bids to win a Tesla Model Y crossover SUV plant planned for 2019."
Saturday will serve as a opportunity for governors of those states to get a little more face-time with Musk, whose company could create thousands of jobs in exchange for tax breaks. (It's likely that only Western states will be in the running for Tesla, headquartered in California).
Like most business owners, seeking tax breaks is "an established M.O. for Musk," Greg LeRoy, the executive director Good Jobs First, a nonprofit that tracks tax subsidies, told CNBC. "He's very aggressive about getting tax breaks and subsidies from state governments, and he's brilliant at public media. He knows how to play them off against one another."
While tax-breaks are good for Tesla, the jobs created by a Tesla plant or Gigafactory significantly add to the local economy. The Tesla plant in Fremont, California, where all Tesla vehicles are made, claims 10,000 jobs. A Nevada government report on the Gigafactory projects 6,500 jobs with an annual payroll of $369.7 million, plus 16,200 jobs and $955.3 million in payroll from businesses that support the Gigafactory, by the end of next year.
Tesla hasn't announced where it plans to build the Model Y plant, but we do know the plant will be incredible, if Musk's remarks during a recent call with investors are any indication. In May, Musk said that the Model Y plant "will really be a step change beyond any other auto-manufacturer" and that Tesla was designing the Model Y to be easy to build. Additionally, the plant's technology would be "far more complex than the software in the car."
"I think this is going to be a very difficult thing for other manufacturers to copy," Musk said then. "I would not know what to do if I were in that position."
As for the next location of Gigafactory 3 — Gigafactory 2 is the Tesla solar plant in Buffalo, New York, Musk clarified to stockholders in January — it may not be in the United States.
"I think we'll announce locations for somewhere between two and four Gigfactories later this year, probably four," Musk said at the TED 2017 conference in April, hinting it this way: "We need to address a global market, yeah."
Watch Musk and Sandovol, who will be joined by Virginia Governor Governor Terry McAuliffe, on the YouTube livestream below, at 1:45 p.m. Eastern on Saturday: