The Tesla Model Y Plant Will Best Fastest on Earth, Says Elon Musk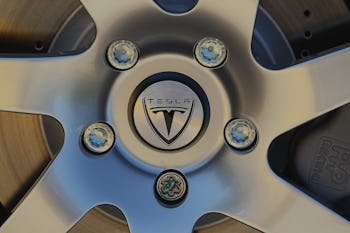 Getty Images / Justin Sullivan
Tesla is on the cusp of some dramatic changes to its factories — the "machine that builds the machine," as CEO Elon Musk calls it — that will place them head and shoulders above the competition. On Wednesday, Musk said that although the upcoming Model 3 will be made in a production line comparable with the best automakers in the world, the most exciting advancements are coming in the future.
"Model Y is really where it becomes a step change, Model 3 is going to be at or probably slightly better than the next-best automotive factory, and then Model Y will be nothing close to anything," Musk said during the company's first-quarter 2017 earnings call.
The Model Y is expected to do for sports utility vehicles what the $35,000 Model 3 will do for sedans: provide a cheaper, mass-market electric vehicle for those that can't afford the Model S or Model X. These vehicles will need to be produced on a much larger scale to meet higher consumer demand. Like the Model 3, the Model Y will be designed so it's easy to manufacture, but both vehicles will benefit from improvements to the factory.
"Where things will really be a step change beyond any other auto manufacturer will be the Model Y factory," Musk said. "This is designing the product to be easy to manufacture and easy to automate, as well as designing the factory itself."
To meet Model 3 production targets, Tesla is building the Gigafactory in the Nevada desert, a 5.8 million square foot factory that will be the largest building in the world when complete. At full capacity, the factory is set to produce batteries faster than the rate of bullets leaving a machine gun.
It's easy to see why Musk describes it as "the machine that builds the machine": small robots like the self-driving Adept Lynx move parts around the factory, charging themselves during the day and carrying loads up to 90 kg (198 pounds). These machines work in tandem with larger, heavy-duty bots on the production floor that can handle weights up to 360 kg (794 pounds).
"It's not just a bunch of robots sitting there, it's the programming of the robots and how they interact," Musk said. "It's far more complex than the software in the car."
Musk's comments suggest the Model Y production process will take this to a new level, and it forms part of the company's goal to reach a market valuation of $700 billion. Today, the company is worth around $47 billion. Later this year, the company is expected to unveil plans for three new Gigafactories, which could form the basis of this future strategy.
"I think this is going to be a very difficult thing for other manufacturers to copy," Musk said. "I would not know what to do if I were in that position."