Tesla Approved for World's Largest Virtual Power Plant in South Australia
The project follows a successful construction in Hornsdale.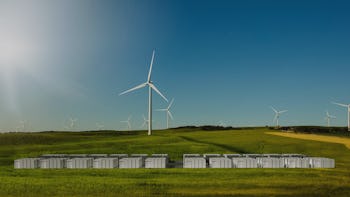 Tesla
Tesla is about to create the world's largest virtual power plant. On Thursday, the South Australian government confirmed plans to put the company's batteries and solar panels in 50,000 homes, using smart energy systems and other technology to move power efficiently.
ABC reports that the plan announced in February will see each home fitted with a 5-kilowatt solar panel system, alongside a 5-kilowatt or 15-kilowatt-hour Powerwall 2 battery. When complete, the system will output 250 megawatts of power, making it by far the biggest project of its kind in the world. The first 25,000 will be fitted on government-owned houses. The householders won't own the systems and they won't receive free electricity, instead buying at what government analysis suggests would cost around AU$0.27 ($0.20) per kilowatt-hour, around 30 percent cheaper than current average residential prices. All 37,000 housing trust tenants can leverage the discounted rate whether the panels are on their house or not. After this, the government wants to expand the scheme to all homes by July 2019, saving consumers $180 million per year in power bills across the state.
The Thursday confirmation followed the 17 March state government elections, where the Labor Party lost power after 16 years to the Liberal Party. While Labor premier Jay Weatherill announced the Tesla policy in February, the Liberals campaigned on an alternative scheme to provide means-tested grants averaging $2,500 to allow 40,000 homes to buy batteries. Labor's loss suggested Tesla's scheme may not survive the election, but energy minister Dan van Holst Pellekaan announced on Thursday that the new administration would pursue both plans, preceded by two trial phases that will install batteries in 1,100 homes.
The plan follows on from an installation in Hornsdale, sparked by a bet between CEO Elon Musk and Australian software-billionaire Mike Cannon-Brookes in March 2017. Tesla installed a lithium-ion battery capable of providing up to 129 megawatt-hours of electricity as part of a plan to solve the state's blackouts from renewable energy usage. Tesla completed the project in 54 days, winning Musk's bet that he could complete the system in under 100 days.
Tesla is not the only renewable energy player in town. British billionaire Sanjeev Gupta has announced plans to build a 120-megawatt battery storage facility to support his Whyalla Steelworks project just 80 miles from the Tesla battery.
The race is on to make South Australia green.