Even Elon Musk and Tesla Can't Compete With New World's Biggest Battery
And it's in South Australia, too.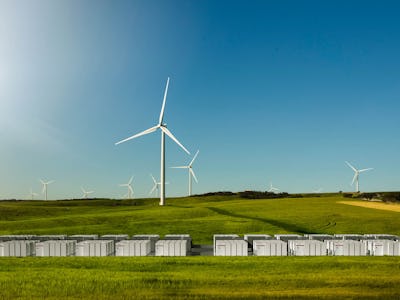 Tesla
The state of South Australia can't get enough of its giant batteries, and its latest project should put even Elon Musk's massive battery farm in its place.
Billion British steel magnate Sanjeev Gupta plans to build a 120-megawatt battery storage facility to support a steelworks operation he purchased last year. That's 20 percent bigger than the 100-megawatt Tesla battery that Musk pledged on Twitter last year to have switched on within 100 days.
The battery at Whyalla Steelworks will unseat Tesla's installation as the biggest battery on the planet. The two sites are located only about 80 miles apart, a proximity that speaks to just how much South Australia has invested in renewable energy and big battery storage projects.
South Australia is home to 1.7 million of the country's 25 million people, and most of the state's residents live in the immediate vicinity of the city of Adelaide. A severe storm in 2016 caused a massive blackout, prompting the state government to invest heavily in renewable energy projects.
Tesla's battery installation in the rural community of Jamestown supports this effort by connecting directly to a wind farm, meaning it can store surplus energy and make it available in the event of disaster.
Unlike Musk's project, which more directly serves the state's energy grid, this new storage facility in the town of Port Augusta will connect to a solar farm at the Steelworks, but part of the plan is for any surplus energy stored to be available for the main grid. In a statement, South Australia Premier — the Australian equivalent of governor — Jay Weatherill said the battery will provide an economic boon by making the steelworks more viable long term while also providing additional benefits to the state.
In what may prove a preview for federal and state governments that have not yet been as directly rocked by natural disaster, energy policy has been one of the big issues in the ongoing South Australian election.
The center-left Australian Labor Party made this announcement one of its last big moves before voters decide whether they will remain in power or turn over control to the more rightwing Liberal Party. It's unclear whether a change in government would at all affect the $10 million grant the Weatherill government has promised to help fund the construction of the new battery.