Tesla's Giant Australia Battery is About to Get a Huge Boost
Two new projects are coming to the state.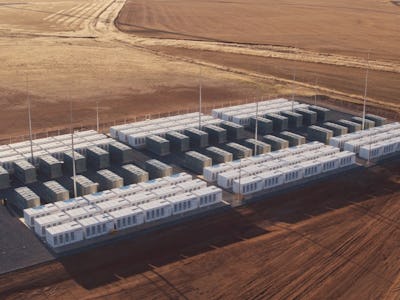 Hornsdale/Vimeo
Tesla's South Australian battery project is about to get a helping hand in powering the area. Tilt Renewables, which operates a wind farm near the existing project, plans to add more renewables and battery capacity to the area. The news follows the announcement that the state government also plans to build the world's largest "virtual power plant" using the company's products.
The renewables expansion, as revealed in a Wednesday story by the ABC, will see two new additions to the area.
The first is a pumped hydro installation in a quarry near Adelaide, capable of providing 300 megawatts. It would have enough capacity to beat the diesel-fired plant nearby for a total of four-and-a-half hours. The second is a 44 megawatt solar farm and 21 megawatt battery system in Snowtown, about an hour's drive from the Tesla installation.
The two projects will work in conjunction with Tesla's project to power the area. So far, the 100-megawatt battery has already proven its worth since switching on late last year, stepping in to plug the gap when Victoria's Loy Yant power plant failed in the space of just 140 milliseconds.
These two new ventures are in addition to the "virtual power plant," unveiled by the South Australian government last week. This will use a network of 50,000 homes equipped with Tesla Powerwall batteries and solar panels, starting with a trial run of 1,100 homes and rolling out further over the course of the next four-and-a-half years. Watch an explainer here:
However, not everyone is too pleased about these developments. The state's relationship with Tesla has come under scrutiny from rival firms.
"I think it's great that South Australia is moving in this direction, it's definitely what the market needs," Jin Kim, co-founder of ShineHub, told the ABC. "However it was a little bit disappointing to see that the South Australian government did not make this roll-out available — or as an open tendering process for many of the Australian companies, not just ourselves — that could also deliver the exact same service or program."
Either way, it seems a renewable energy revolution is taking place.