Here's How the Internet Is Using Elon Musk's Boring Company Flamethrowers 
Some are creative, others are questionable.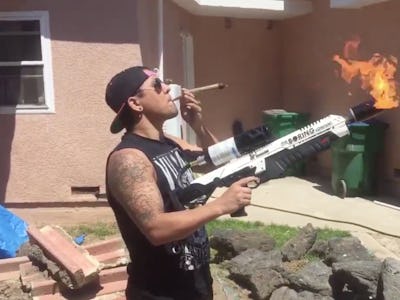 Maxamilian Demian
Elon Musk's plan to raise money for his tunneling venture by hawking flamethrowers came to fruition over the weekend, and the internet is already putting their incendiary new toys to good, er, use. So far, the first 1,000 people who ordered the Boring Company "Not-a-Flamethrower" have gotten their hands on the device and took to social media in short order.
Musk made sure to warn everyone to "throw flames responsibility," even producing a Dr. Seuss-inspired safety disclaimer with some recommendations on how the blaze-blaster could be used. Of course, that's no guarantee customers of the device intend to use their new flamethrowers as directed.
From grilling steaks to blazing, here are three ways people are getting lit with the Boring Company's latest innovation.
1. Boring Flamethrowers Cooking Up a Storm
Summer is here, which means it's cookout and s'mores season. Instead of dusting off their grills or prepping a fire pit, countless pyros across the web have ditched their spatulas for a flamethrower. Steaks, marshmallows, creme brulee, and even doughnuts have been roasted using Musk's newly released blowtorch.
If you're thinking about breaking out Musk's flamethrower at your next dinner party, be sure you note that The Boring Company's take on the flamethrower bears little resemblance to military-grade devices, which would almost certainly ignite flammable liquids with less delicious results. But it does appear in posts to work well as a kind of gimmicky propane torch, perfect for adding the crispy tops to creme brûlées or giving your s'mores a good sear.
Would-be pyro-chefs should also be advised that the flamethrower appears to be a pretty blunt instrument in the kitchen. If you care about cooking your strip steak exactly how you want it, we'd recommend a more conventional grill. But that doesn't mean your flamethrower won't be perfect for flambeing a dozen desserts. In short, the Not-a-Flamethrower has already redefined cooking with fire.
2. Boring Flamethrowers on the Resale Market
This odd-ball product release was all for the sake of helping the fledgling tunnel building company raise money to develop the hyperloop. The first few people that got their hands on the Musk's flamethrower put down $500 to reserve it. And to little surprise, online entrepreneurs tried to flip the thing for huge margins.
CNN spotted listings ranging from $3,000 to $20,000 on Ebay, shortly after the Boring Company's event. These posts have since been taken down.
This hasn't stopped the one person trying to auction off the device's instruction manual for a whopping $250. There's not stopping these online scalpers.
3. Boring Flamethrowers Roasting Doobies
Musk himself was probably talking about grills when he took to Twitter with the claim that there was "No more need to use a dainty match to ignite!"
Of course, tokers like Twitter user Maxamilian Demian quickly abided with their own interpretation of Musk's call to action, and found another use for their new match replacement. Pictured below with a joint the length of the propane tank (for safety reasons, naturally), Demian proceeds to blaze like no one has blazed before.
He holds his doobie to the flame to spark up and triumphantly puffs but doesn't pass. As joyful as he looks, we still wouldn't recommend trying this at home.