The Boring Company Just Mapped Its D.C.-Baltimore Hyperloop-Ready Route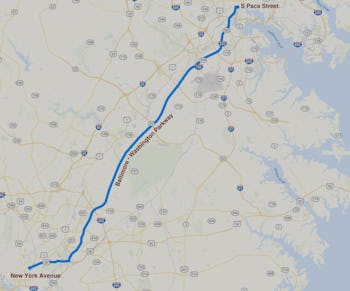 The Boring Company
The Boring Company unveiled further details about its proposed "loop" route between Baltimore and Washington, D.C., on Thursday, a high-speed underground transit project that is designed to meet the requirements for hyperloop. Elon Musk's venture — which has used a curious funding model of flamethrowers and hats — plans to fully fund the 35-mile tunnel that will initially move pods at speeds of between 125 and 150 mph.
The proposal is the latest under the company that wants to revolutionize the exciting world of tunnel boring. The parallel, twin underground tunnels will sit at least 30 feet deep. The project is expected to take between 12 and 20 months depending on machine speed, with the construction of four machine "launch pits" taking around four weeks. The only other surface penetrations will come from ventilation shafts and emergency exits (around 20 but no more than 70, between 12 and 24 feet diameter) and stations "the size of a few parking spaces" and "widely distributed in a network," built on private land with local government input on location. Autonomous electric skates will transport either a single passenger vehicle or a pod of between eight to 16 passengers, with pedestrians and cyclists prioritized over cars.
While the proposal would enable end-to-end trips in just 15 minutes, with all pods moving express regardless of intermediate stops, The Boring Company sees it as just the beginning. The "loop" route is designed to work with hyperloop, the vacuum-sealed system proposed by Musk in 2013 with top speed of 700 mph. A theoretical hyperloop from New York to D.C. — which Musk claimed he received "verbal govt approval" for in July 2017 — would take 30 minutes total, and the site proposal states "we are hopeful that this tunnel could eventually be part of that trip."
The Boring Company, first named by Musk in December 2016 when sitting in slow-moving Los Angeles traffic, is working on four projects including the East Coast plan. The Hawthorne plan has an "initial test tunnel," an excavation permit has been submitted for a Los Angeles project, and the company is also aiming to build another "loop" project between Chicago O'Hare airport and downtown.
The question is whether Musk can get permission for the full route. The State of Maryland has granted permission for 10.1 miles of tunnel so far, and the company claims it's working with agencies like the Federal Highway Administration and Federal Railroad Administration to bring the full project to life.
Musk originally released his hyperloop plan as a white paper for others to complete, only to get involved himself in August 2017 as he felt competitiors like Virgin Hyperloop One weren't moving fast enough. If The Boring Company gets there first, it could prove Musk right.