Musk Reads 100: A Look at the Future of Tesla, SpaceX, Neuralink, and More
Will Tesla unveil a robot taxi? Will SpaceX launch its Starship? And what comes next for brain-wireup startup Neuralink?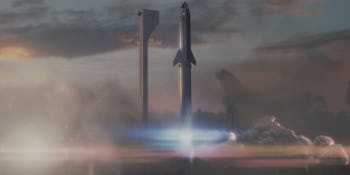 Welcome to a special commemorative edition of Musk Reads! To mark 100 issues of this twice-weekly newsletter, Inverse is taking a look at what the next 100 issues may hold for the tech entrepreneur and his related companies. Will Tesla unveil a robot taxi? Will SpaceX launch its Starship? And what comes next for brain-wireup startup Neuralink?
A version of this article appeared in the "Musk Reads" newsletter. Sign up for free here.
(Fictional) Musk Quote of the Coming Year
"Flying Tesla Roadster with SpaceX options package…still trippin' me out. I mean I'm trippin' balls here."
Tesla
Here's a quick outline of what is expected to happen:
From the outside, Tesla's next 12 months seem comparatively tranquil. The automaker has successfully ramped up production of the Model 3 to 5,000 cars per week, and now it's focusing on a gradual rollout to international markets. There's a lot on the roadmap, but Musk has not suggested that anything will represent a "bet the company" moment akin to the Model 3, Model S, and original Roadster launches.
"Last year was the year of manufacturing," Gene Munster, tech analyst and co-founder of Loup Ventures, tells Inverse. "This is the year of starting to get a sense about where the EV market really is for a close-to-$50,000 car."
The Shanghai Gigafactory will be the "biggest highlight" for the coming year, Munster says. The company's first factory outside of North America could improve manufacturing efficiency and lower prices for Chinese consumers, increasing overall demand for Teslas by 10 percent. Munster expects the Shanghai facility to start properly producing cars early next year and have a measurable impact on the business nine months to one year later.
More Gigafactories are also likely to arrive. Musk has called for a factory on every continent to get cars to consumers faster. Munster claims the company will likely announce a location for a European Gigafactory this year.
Musk, who wants to boost the company's annual battery production from around 35 gigawatt-hours to multiple terawatt-hours, will probably appreciate the extra Gigafactory capacity to reach these goals. As well as helping with the solar rollout by providing a means for consumers to store energy, more battery capacity could help with the company's plan to launch solar in Europe next year.
"Our perspective is generally that Tesla will come through on product announcements, but behind a highly ambitious schedule," Scott Shepard, senior research analyst at Navigant Research, tells Inverse. "In that regard, the lowest-hanging, highest opportunity products will come to market first."
Shepard claims that this means the Model Y SUV, the Model 3-style entry-level car announced in March, will probably come to market first. That will be followed closely by the Roadster. Although the "cyberpunk"-style Pickup Truck may launch in the next 12 months, Shepard predicts it won't reach consumers for another two to three years.
Munster predicts that the Model Y will start production next year in very small quantities. Although big things are expected for the Model Y — Musk aims to produce 1 million Model Y vehicles per year — Munster expects the Pickup Truck to only account for around five percent of the company's production output.
The second-generation Roadster, which Munster describes as "largely irrelevant" in business terms, will likely account for less than one percent of output. It's of little wonder that Musk described the Roadster as "dessert."
As for the Semi Truck? Shepard warns that there has been little movement on the "megacharger" network expected to get the vehicle back on the road in around half an hour. Musk stated at the November 2017 launch that the firm would place one every 400 miles in the United States, but considering the truck is expected to launch in late 2020, it may be limited to just a limited number of use cases.
"The Tesla robo-taxi service will almost certainly not launch in 2020, but not because of regulations but rather because of the technology not being ready," Sam Abuelsamid, senior analyst for Navigant Research, tells Inverse. "While Elon Musk repeatedly claims that Tesla's 'full self-driving' system will be released based on regulatory, this is nonsense used only as a cover for their failure to deliver. The reality is that there are currently no regulations anywhere in the world that prohibit the deployment of fully automated driving systems. If Tesla actually had the technology, they could turn it on today for customers."
This sentiment, that Tesla probably won't launch its taxi service next year, is rather common. Munster describes a "light year gap" between where the semi-autonomous Autopilot system will be next year and full autonomy.
Musk previously predicted Tesla would have 1 million robo-taxis on the road next year. When Inverse asked Electrek editor Fred Lambert about this, he said, "I'd be pleasantly shocked." Munster was even more certain that Tesla would miss this goal: "I'd bet my career on it."
Inverse Daily
Have you seen the cool prizes we're giving away this month? Subscribe to Inverse Daily and read each day to increase your rank.
SpaceX
Here's a quick outline of what is expected to happen:
Starship could complete a 20-kilometer hop.
Crew Dragon sends its first astronauts to the International Space Station.
Starlink, the internet connectivity constellation that offers faster speeds and lower latency than its predecessors, is slowly coming together. The first 60 satellites launched in May 2019, and in just eight years' time SpaceX could have as many as 12,000 satellites in the sky. The firm could have 600 satellites in the sky by the end of next year. Ahead of the first launch, Musk said that "we'll start selling service, initially, around the 400 satellites … we'll probably start to do some advance sales of connectivity — if things go well — probably later this year or early next year."
It could make SpaceX and Musk very rich. Analysis from NextBigFuture shows revenue from Starlink could outpace the revenue from rocket launches as early as 2020. Company revenue could reach $35 billion by 2025.
Not everyone agrees. Satellite internet is tricky, and many companies have failed in the past. O3b, which also promised to provide internet to the world, failed in its quest, as the market didn't really exist.
"My view is that these LEO constellations are totally uneconomic," Roger Rusch, president of TelAstra which advises investors about the satellite industry, told Wired.
Beyond Starlink, SpaceX is aiming to fly the Starship prototype 20 kilometers into the air. This would be a big step toward a manned mission to Mars. The smaller "Starhopper" vehicle flew up to 150 meters this week, and Musk is now expected to hold a press event sometime in mid-September to explain the Starship Mk.1. The end goal is to hold a manned mission to Mars and build a city by 2050.
Crew Dragon is also aiming to fly its first manned mission, "Demo-2." The capsule is part of NASA's plan to send astronauts to and from the International Space Station without relying on Russia's launch capabilities. However, the Government Accountability Office warned in June that "both contractors [SpaceX and Boeing] have run into chronic delays."
"By the end of this year, I don't think it's impossible, but it's getting increasingly difficult," Hans Koenigsmann, SpaceX vice president of build and flight reliability, said in a July press event.
In Other Musk News…
Here's a quick outline of what is expected to happen:
Neuralink, Musk's brain-computer interfacing firm detailed in July, could start clinical trials as early as next year. Musk said at the unveiling event that the firm was "aspirationally" aiming for this deadline. Although there's a chance Neuralink could miss its goals, there's a lot of praise from industry insiders about what's already been demonstrated.
"The time is ripe for visionary private companies, like Neuralink, to try to move these technologies out of our labs," Andrew Hires, a neuroscientist at the University of Southern California, told The Daily Beast. "I wouldn't bet against [Neuralink]."
Outside of Neuralink, The Boring Company is expected to receive a new China branch in the coming days. That comes after the firm has announced a deal to build a Las Vegas "loop" ahead of CES 2021 in January of that year. That could mean the first public tunnel is almost here.
Not too far from The Boring Company's test tunnel, hyperloop teams are expected to compete on a longer track. For the fourth competition, set to be held by SpaceX sometime next year, Musk claims the firm will extend the track from 0.8 miles to 6.2 miles with a curve. It could help teams move past the current record of 288 mph and reach closer to the theoretical top speeds of 700 mph.
"This would allow us to reach a much higher speed since we have a longer way to accelerate," Toni Jukic, manager for the TUM Hyperloop team, which holds the public world speed record for a hyperloop pod, told Inverse this month. "Even though this would be an awesome new challenge I doubt they will finish the track in time."
Musk has a bit of a reputation for overoptimistic deadlines, summarized in fan communities by the phrase "Elon time." If he can meet even half these targets, though, Musk Reads #200 will probably read radically different to today's.
The Elonporium
Subscribe to Inverse Loot and learn about these deals first.
The Ultra-Fine Print
This has been Musk Reads #100, the weekly rundown of essential reading about futurist and entrepreneur Elon Musk. I'm Mike Brown, an innovation journalist for Inverse.
Sponsor Musk Reads and get your business in front of a brainy, curious audience that's motivated to make the world a little better tomorrow. advertising@inverse.com.
A version of this article appeared in the "Musk Reads" newsletter. Sign up for free here.