Musk Reads: SpaceX's Starship Gets a Reveal Date
Starship's reveal date approaches; hyperloop teams pave the way to maximum speeds; and The Boring Company comes to China.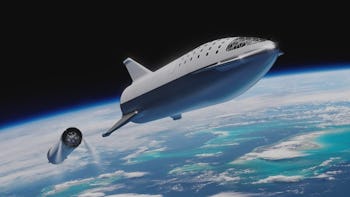 Starship's reveal date approaches; hyperloop teams pave the way to maximum speeds; and The Boring Company comes to China. It's Musk Reads: SpaceX Edition #93.
Musk Quote of the Week
"Orbital refilling is vital to humanity's future in space."
A version of this article appeared in the "Musk Reads" newsletter. Sign up for free here.
SpaceX
The Starship, SpaceX's stainless steel rocket designed to take humans to Mars, has a reveal date: August 24 at the Boca Chica test facility in Texas. The presentation is expected to be a detailed review of the first orbital Starship, as Musk details each design decision ahead of further development. The first version is expected to feature three Raptor engines, a far cry from the 41 engines expected on the final version. The reveal comes just weeks after a miniaturized version, the Starhopper, completed its first non-tethered hop. The Starship is expected to complete its first commercial mission, launching a telecommunications satellite, sometime in 2021.
The Starship's refueling system got a big boost last week, as NASA announced plans to work with SpaceX on ways to transfer propellant in orbit. The idea allows rockets to fly into space with less fuel and top up before continuing their journey. Musk stated in September 2016 that without this, the Mars-bound rocket would need to be five to 10 times the size and cost. NASA started its Robotic Refueling Mission 3 in December 2018 with the goal of cryogenically storing fuel for six months to see if it leads to any fluid loss, a critical aspect of maintaining such a top-up point. Musk has declared the technology as "vital to humanity's future in space." Read more.
What's next for SpaceX: SpaceX is expected to launch the AMOS-17 on August 6 from Space Launch Complex 40 at the Cape Canaveral Air Force Station in Florida. The 6,500kg satellite, built by Boeing, will provide communications services in Africa. The Falcon 9 supporting this mission previously flew on the Telstar 19 VANTAGE and Es'hail-2 missions, and SpaceX does not plan to recover the rocket after this mission. A static test fire of the rocket completed on August 4 following a delay due to a suspect valve.
Hyperloop
Why has hyperloop, with a current speed record of 288 mph, not reached its promised top speeds of 700 mph? According to two pod design teams that spoke to Inverse, it's because we haven't built a long enough track yet. TUM Hyperloop places the magic length at around nine miles, while Delft Hyperloop suggests 44 miles would be long enough to reach those top speeds. SpaceX's hyperloop track only measures 0.8 miles, but next year's competition is expected to feature a 6.2-mile curved track. These demonstrations could pave the way for longer, public tracks. Read more.
The Boring Company
The Boring Company is coming to China. At the World Artificial Intelligence Conference in Shanghai, set to take place August 29 to 31, Musk plans to take the wraps off a China branch of his tunnel-digging venture. The Boring Company aims to speed up tunneling and reduce costs through a variety of measures, but its car-in-a-tunnel pitch has received a mixed response from American cities.
China, which increased transport infrastructure spending by nearly five percent year-over-year in the quarter ending March, could prove receptive to efficiency-boosting innovations in the sector. Musk praised China's infrastructure progress in February 2018 as "100 times faster" than the United States in response to the construction of a train station that was built in just nine hours. He explained the difference between the two as being due to "an exponential growth in bureaucracy & a self-serving private sector consultant industry."
The Boring Company's expansion into China comes as workers race ahead to complete the Shanghai Gigafactory, Tesla's first overseas factory, where the company will produce entry-level versions of the Model 3 sedan and Model Y SUV. Musk suggested at the Gigafactory's January opening that a Chinese engineer could one day rise in the ranks to become global CEO, a remark he repeated last month.
Photo of the Week
Starship takes shape in Texas.
The Elonporium
Subscribe to Inverse Loot and learn about these deals first.
The Ultra-Fine Print
This has been Musk Reads: SpaceX Edition #93, the weekly rundown of essential reading about futurist and entrepreneur Elon Musk. I'm Mike Brown, an innovation journalist for Inverse.
A version of this article appeared in the "Musk Reads" newsletter. Sign up for free here.