10 Wireless Chargers Ranked From Worst to Best Value
Stop fighting with that charger plug and go wireless!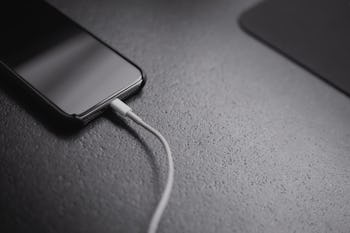 Unsplash / Andreas Haslinger
It happens every day, right? You get through everything you had to do, and you even manage to resist the addictive draw of you smartphone long enough to get your teeth brushed and into bed. But you have to plug the thing in or your alarm won't go off.
So you find that tiny little plug, you locate that tiny little port, and you fumble around trying to connect the two. There is a substantial amount of swearing. And now you find yourself in a small argument with the person you share the bedroom with, who has already managed all this and fallen—by some exhaustion-induced miracle—asleep. (Until you started your annoying ritual.)
Do yourself a favor? Get a wireless charger for that phone. Then you can just drop your phone on it and collapse. Get one for your bedmate, too, while you're at it.
You might imagine these are expensive. Anything this cool feels like it should be expensive. These are not.
Maybe this charger stand isn't the best value in this list, but it is a mighty nice charger. You always pay a bit of a premium for the Samsung name, but then you also get a charger built by Samsung. And this one is pretty, does rapid charge (if your phone is capable of it) and it's extremely reliable.
If the brand matters to you, you want a stand that looks nice even when your phone isn't in it, and you might also want to charge some accessories on it, spending a little more money to get those things is not a terrible thing.
I've been covering technology a long time, and I've long been a fan of Belkin products. So this Belkin rapid charge Qi charger is very tempting, even though the price is more than double some of the other chargers in this list.
Belkin worked with Apple on this one to optimize it for your iPhone. And it will also charge devices from Samsung and LG that work with Qi-compatible chargers. It will even charge Qi-compatible accessories like you Apple Watch and Air Pods.
Sometimes the dollar amount isn't the most important factor. In that case, this slick, white charger with a big surface area might be for you.
So easy. Plug it in, set your phone down. The light changes color so you know it's good to go. You go to sleep, and the light turns off after a minute.
If your phone is capable of rapid charge, this charger is, too.
It has been thoroughly tested by thousands of Amazon reviewers. So even though you have never heard of this company, it's a great deal. And at that price, it's easy to give this whole wireless charging business a try.
Not willing to trust you phone to a bargain brand you've never heard of, but you still want a great deal and you don't need the one your phone maker is selling? Yeah, that's an Anker.
This one does 10W fast charging and it's a stand.
Here's why a charging stand rocks: You set your phone on it at night. No plugging anything in. But when you wake up at 4 a.m., you can glance at your phone for the time. (Look for the settings that turns your phone into a clock display when it's charging.) When it's on your desk, you can glance to see if you have texts without even picking up your phone. This is a feature you definitely want.
If there are two of you and you are looking for a bargain, how's this two-pack of Qi Wireless charging stands sound to you?
You get all the benefits of a stand so you can see the clock on your sleep mode. And you get two of them for less than $30. One for you, one for your bed mate—or one for your bedside table and one for your desk.
Because I'm warning you, once you get a phone stand that charges your phone, you will never go back to that absurd plug scramble dance you once did at bedtime.