SpaceX Starship 2021: What We Know About the History-Making First Mission
The big moment is almost here.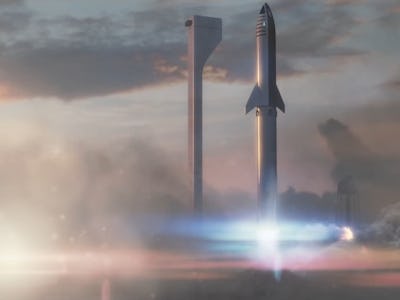 SpaceX
The most powerful rocket in history's maiden voyage is fast-approaching. A SpaceX executive revealed last week that the Starship, the company's forthcoming ship designed to be capable of voyages to Mars and beyond, is likely to take place in just two years' time.
"The goal is to get orbital as quickly as possible, potentially even this year, with the full stack operational by the end of next year and then customers in early 2021," Jonathan Hofeller, SpaceX vice president of commercial sales, said at the APSAT conference in Jakarta attended by SpaceNews.
The ship, which originally debuted as the "BFR" in September 2017, is designed to replace all of SpaceX's existing rockets. More powerful than the Falcon Heavy, the Starship is designed to enable the first manned missions to Mars. Its engines are fueled by liquid oxygen and methane, a more common substance than rocket propellant, with the hope that the company will be able to set up fuel depots on Mars to return home — or travel even further, setting up more depots along the way.
Starship is the face of CEO Elon Musk's grand ambition to unlock a new, multi-planetary era. During a September 2018 event to announce the ship's first passengers — Japanese billionaire Yusaku Maezawa and a team of artists who will head to the moon and back — he said the ship is intended as "an interplanetary transport system that's capable of getting from Earth to anywhere in the solar system."
"There's so many things that make people sad or depressed about the future," Musk said. "But I think becoming a space-faring civilization is one of those things that makes you excited about the future…that is the intent of BFR, is to make people excited about the future."
It all starts with SpaceX's 2021 mission.
SpaceX Starship First Mission: What We Know So Far
Hofeller provided few details on the ship's maiden voyage, but the details he did provide made it sound like most of other SpaceX's launches.
The company is speaking with three different customers about using the ship for a launch. The firms are all telecom companies, which certainly makes it seem like Starship will launch some sort of satellite. The launch site is perhaps the biggest question mark. Previous launches have used bases in Florida and California, but SpaceX has expressed interest in using its own launch site in Texas for Starship missions.
These remarks suggest a cautious approach to Starship's first launch, which sounds not unlike the Falcon 9 launches that have become almost routine for SpaceX, like the Iridium or Telstar missions. A satellite launch was also how the Falcon Heavy, currently the world's most powerful operational rocket, got its feet wet, with the Arabsat-6A communications satellite serving as its first commercial launch in April 2018.
But the Starship's first mission will be different. Beyond the humanity-transforming capabilities of the ship, SpaceX has spoken before about how the Starship is designed for full reusability. That could help bring prices down, and would mean commercial customers would have to pay less to launch a satellite. It could even pave the way for new uses of the Starship.
"You could potentially recapture a satellite and bring it down if you wanted to," Hofeller said. "It's very similar to the [space] shuttle bay in that regard. So we have this tool, and we are challenging the industry: what would you do with it?"
SpaceX has gradually refined its reusability technology. It went from trying and failing to land one Falcon 9 in 2013 to successfully landing all 15 attempts in 2017. The company now plans to reuse the same Falcon 9 five times, Hofeller revealed, improving on its record of three launches with the same rocket.
Musk previously said the Starship would replace the Falcon 9 and Heavy. At the conference, however, Hofeller struck a more cautious tone, indicating that they wouldn't go away immediately.
"Falcon 9 and Falcon Heavy are going to be around as long as our customers want them," Hofeller said. "If we make them obsolete by having a better product and a lower price, great."
SpaceX Starship First Mission: What Comes Next
SpaceX has already hosted short "hop tests" at the Boca Chica facility in Texas. The plan now is to hold even larger hops later this year. The team will then look to constructing an orbital prototype some time in 2020.
Assuming the first mission is a success, more ambitious ones would follow. The flight around the moon with Japanese billionaire Yusaku Maezawa is scheduled for 2023. An unmanned trip to Mars was announced in 2017 with a tentative date of 2022, but Musk's later comments suggest this will come after the Maezawa mission. Two unmanned rockets would lay the groundwork for a further four rockets, two manned and two unmanned, which would set up a basic base on Mars.
Eventually, the goal would be to establish a city on Mars. Musk has suggested this could happen as soon as 2050. Each Starship can hold around 100 people. That means a colony of a few thousand could emerge rather rapidly, but experts have cited a number of concerns with the confined space.
Sending enough people to Mars to begin colonizing it would require a ton of rockets. Musk claimed last month that SpaceX aims to build a new Raptor engine ever 12 hours. As Starship itself requires seven engines with a further 31 for its boosters, a high output may be necessary to meet these goals.
It could all start with a satellite launch for a telecoms firm.