SpaceX Falcon 9 Launch of Iridium-7 to Mark a Huge Milestone for Elon Musk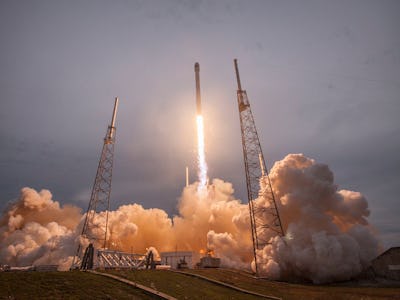 SpaceX
SpaceX is making history on Wednesday, as it plans to land a Falcon 9 rocket on a drone ship in the Pacific Ocean just four days after landing one in the Atlantic Ocean. Because these drone ships take up to 10 days to deploy and return, it's only the second time in SpaceX history that both company's ships have been out at the same time — and it's a big step to making the rocket as reusable as possible.
The company plans to launch its 14th mission this year from the Vandenberg Air Force Base in California on Wednesday, currently scheduled for 4:39 a.m. Pacific time. This is the seventh Iridium NEXT constellation mission, which will send 10 satellites into orbit as part of what Iridum refers to as one of the largest tech upgrades in history, using 75 SpaceX-launched satellites to deliver mobile and data communication anywhere in the world.
The rocket is the third Falcon 9 Block 5 in existence, an upgraded vehicle that makes reusability-focused changes like improved heat shields and reinforced legs. The goal is to use each rocket for launches 10 times with simple inspections, and 100 times with refurbishments. Turnaround times for the same booster are expected to drop to just 24 hours, compared to the current turnaround record of just over two months, and the reuse of the rocket will recover the estimated $62 million cost of building a new Falcon 9. Hans Koenigsmann, vice president of build and flight reliability at SpaceX, told reporters in April that Block 5 "basically summarizes all that we learned on reusability."
Block 5 debuted on May 7 with the launch of the Bangabandhu-1 communications satellite for the Bangladesh Telecommunication Regulatory Commission. The second launch saw a Telstar 19 Vantage communications satellite liftoff on Sunday from the Cape Canaveral Air Force Station in Florida. The company plans to use Block 5 for all Falcon 9-based missions in the future. The plan for Wednesday is to land the booster on the Just Read the Instructions drone ship while it's expected that Mr Steven will catch the fairing.
Of the company's 57 Falcon 9 launches, SpaceX has successfully landed 25 boosters with an 80 percent success rate and reflown 13 of those landed boosters. The figures are impressive, but Block 5 could make reusability seem like child's play.