SpaceX: "Mr Steven" Giant Net Tested at High Speeds in Stunning Video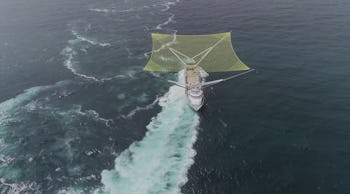 YouTube/Drone Dronester
SpaceX's component-catching ship has got an upgrade. Mr Steven, the vessel designed to catch the fairing from the Falcon 9 as it returns to Earth after launch, has been demonstrating its larger net around the port of Los Angeles. New images on Tuesday and a video earlier this week show the ship conducting sea trials at speeds of up to 20 knots, or 20 mph.
Images captured by Teslarati and video captured by YouTuber "Drone Dronester" show the ship conducting tests between July 12 and 15, with the crew and recovery technicians sending the ship out after a multi-week installation of the new net. The ship is what's known as a "fast supply vessel," meaning it's ranked to move 400 metric tons of cargo at regular speeds of 23 knots, or 27 mph. The ship itself weighs almost 200,000 pounds and is around 200 feet long. The crew focused on sharp corners at high speed less than half an hour after setting sail, testing the stability with a net that's four times bigger than its predecessor with an area of 0.9 acres.
The upgrade was much needed, as its predecessor first deployed in February never caught a fairing. The component protects the satellite on its way to orbit, normally discarded at the end of the mission. SpaceX is aiming to reuse as much of its rockets as possible to reclaim some of the $62 million construction costs. CEO Elon Musk described the fairing as "a pallet of cash worth $6 million dollars falling through the sky" at around eight times the speed of sound, so capturing the component is highly lucrative.
On the fairing side, SpaceX has made some key changes to make Mr Steven's job a bit easier. Modifications like onboard thrusters and a guidance system are aimed at positioning the fairing for a landing before the parafoil deploys to assist with the final landing on the ship's netting. Those weren't enough to catch the component, so SpaceX changes the ship's net. Musk joked on Twitter that the new netting "looked smaller on paper."
Mr Steven is expected to make its debut at the Falcon 9 launch scheduled for July 25 at 7:39 a.m. Eastern time from the Vandenberg Air Force Base in California.
The ship is set to see action surprisingly soon.