These WiFi Smart Plugs Have Over 4,000 Reviews on Amazon
Control appliances from anywhere with apps or voice commands.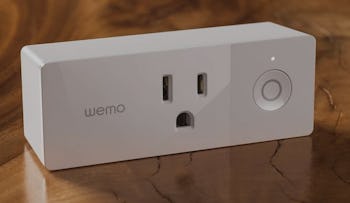 Amazon
The promise of a smart home is tantalizing, but not all of us can afford to upgrade our entire home—especially when we're renters. Wifi smart plugs allow you to turn some devices and appliances into smart versions of themselves that you can control by an app or through a smart speaker.
These plugs all work in basically the same way—put the plug in a wall outlet, plug in the device you want to control, download an app, or work with a smart speaker. In an instant, you have a smart appliance that you can control from a distance or put on an on/off schedule. None of these popular plugs need a smart home hub or subscription service.
Especially for Alexa
Why We Chose It You can add voice control to any outlet with this Amazon smart plug, which is compatible with Alexa. It truly is plug and play, just plug it in, open your Alexa app, and start giving voice commands. The plug is only 1.5 inches tall, so it won't cover the second outlet on your wall. There's an on/off button on the side and and an LED indicator so you know it's working.
Works With Most Smart Speakers
Why We Chose It The Kasa smart wifi plug lets you control electronics from anywhere when you use the Kasa app. It's compatible with iOS and Android, so you're good there. The plug also lets you use voice commands through Alexa, Google Assistant, or Cortana. It works with any wifi router and you don't need a separate hub or subscription service to be able to create schedules for devices. It also has nearly 16,000 reviews on Amazon with a solid 4.5 rating.
Compact Design
Why We Chose It The Wemo Mini smart plug works via a free app or you can use your Alexa, Google Assistant, or Apple Home Kit to make voice commands. The Mini allows you to set schedules and timers for the device that's plugged into it, with no hub required. It also has an away mode. With the Mini design, you can stack two smart plugs in one wall outlet.
Monitors Energy Use
Why We Chose It The Etekcity Smart Plug comes in a two-pack, making it an economical choice and allowing you to make your home smarter two plugs at a time instead of one. You can control devices plugged into the Etekcity plug either through the VeSync app or via Alexa, Google Home, or IFTTT. The energy monitoring feature will also allow you to cut your power bills.