"Chronic Delays": SpaceX and Boeing NASA Capsules Near a Critical Deadline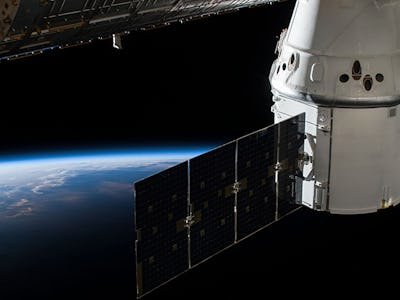 SpaceX
The commercially driven new space race has hit a speed bump.
SpaceX and Boeing, both working on ambitious space capsules that will ferry humans between Earth and the International Space Station, are facing delays and struggling to meet their deadlines, according to a U.S. government report released Thursday.
Timing is now coming down to the wire, as NASA is depending on one of them to deliver something in a matter of months.
The Government Accountability Office published a review of NASA's Commercial Crew program, and found serious concerns with both private firms.
Currently, astronauts go to and from the ISS inside a Soyuz capsule built by Russia's Roscosmos space agency. But both firms have missed deadlines, and the office doesn't expect either the SpaceX Crew Dragon or the Boeing CST-100 Starliner to launch before late 2019.
It gets worse: NASA's contract with Roscosmos expires in September 2020, and the agency does not have a backup plan if its commercial crew program misses its targets.
That leaves approximately a nine-month window between the date that Boeing and SpaceX's capsules should be ready, and the date that the NASA contract with Roscosmos expires.
The GAO was scathing in its review of current progress:
Before any missions can happen, NASA will have to certify that both contractors' vehicles are safe for human spaceflight. But both contractors have run into chronic delays.
SpaceX and Boeing: The Team That Was Meant to Save NASA
NASA's predicament dates back to 2011, after the end of the Space Shuttle program meant astronauts had to depend on Roscosmos to continue their missions. The agency has a contract to buy seats on Russia's Soyuz rockets at $81 million each.
SpaceX and Boeing both worked on alternatives during this time, as part of a broader competition involving other firms. In July 2013, at the Houston Product Support Center in Texas, Boeing unveiled a mockup of that very cool-looking CST-100 Starliner and invited journalists to take a look inside. Around 10 months later, at the SpaceX headquarters in Hawthorne, California, CEO Elon Musk unveiled his company's Crew Dragon capsule, complete with silky-smooth landing animations that showed reverse thrusters slowing its descent back to Earth.
"That is how a 21st-century spaceship should land," Musk said.
In September 2014, NASA announced it had chosen SpaceX and Boeing to start transporting astronauts instead. The announcement was framed as a way of sending American astronauts into space from American soil, ending the dependence on Russia as early as 2017.
"From day one, the Obama Administration made clear that the greatest nation on Earth should not be dependent on other nations to get into space," NASA's then-administrator Charlie Bolden said at the agency's Kennedy Space Center in Florida.
NASA unveiled its dream team of astronauts in August 2018, ready for the initial test flights.
SpaceX and Boeing: The Delays Get Longer
The Russian contract was set to expire this November, but in February 2019, NASA extended this agreement to September 2020.
Meanwhile, the two teams were working hard to meet the deadlines. Musk boldly claimed that SpaceX could send humans into space as early as April 2019. SpaceX's unmanned demo flight was announced in November 2018 with a January 7 launch date. That slipped to February 28, until the final launch on March 2.
SpaceX's test launch was impressive, but later reports suggested it may not meet its goals to complete a further launch by the summer. In April, it emerged that the capsule suffered a severe thruster anomaly during tests. In May, the capsule parachutes reportedly failed a test.
Boeing's capsule also hit trouble. In March, it delayed its first launch from the spring to August at the earliest. The second test flight was scheduled for August, but SpaceNews reported that the team still expected to host a crewed test flight later this year.
In the GAO report, its final recommendation urged NASA to think up a plan B:
GAO continues to believe that NASA should develop a contingency plan to ensure uninterrupted access to the ISS if delays persist beyond September 2020. NASA generally agreed with GAO's findings.
With just over a year to go before the Soyuz contract expires, time is ticking down fast.