First NASA Commercial Crew Flight Likely Delayed Until 2018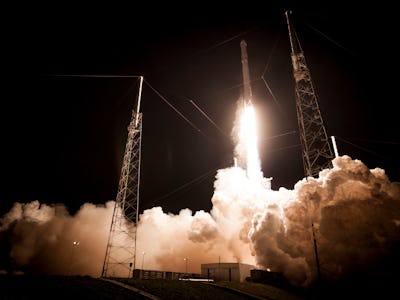 Getty Images / NASA
A new report issued by NASA Inspector General Paul Martin makes a scathing indictment of NASA's Commercial Crew Program (CCP), and predicts that NASA will not be ready to send astronauts into space aboard a commercial vehicle before 2018 which could leave little option than to prolong an already fraught space partnership with Russia and further rely on Soyuz launches to send American astronauts to the International Space Station.
In the last few months, NASA has been publicly optimistic about expectations SpaceX would be certified for regular crew trips to the ISS by October 2017, and the same for Boeing by May 2018.
However, Martin writes in the new review, "The Commercial Crew Program continues to face multiple challenges that will likely delay the first routine flight carrying NASA astronauts to the ISS until late 2018—more than 3 years after NASA's original 2015 goal."
The explosion of a Falcon 9 rocket on Thursday during a static ground test casts more doubts on the prospects of SpaceX achieving their 2017 goal.
Martin acknowledges that funding problems have been a large cause for the three-year delay in getting the CCP from concept to reality. However, he says monetary issues are not to blame for additional delays past 2017. "Technical challenges with the contractors' spacecraft designs are now driving the schedule slippages," he wrote.
NASA isn't spared from blame. The report found "significant delays in NASA's evaluation and approval of these hazard reports and related requests for variances from NASA requirements that increase the risk costly redesign work may be required late in development, which could further delay certification."
"Had the Agency met its original goal of securing commercial crew transportation by calendar year 2015, NASA could have avoided paying Russia close to $1 billion for Soyuz seats in 2017 and 2018, even factoring in the purchase of some seats in 2016 to cover the expected transition period," Martin wrote.
At this point, there's little the agency can do to speed things up. And the ramifications mean NASA may have to purchase seats for its astronauts on future Soyuz launches. If that's the case, it needs to do so before the end of this year.
And Russia's space agency Roscomos will be charging NASA $81 million per ticket by 2018 — compared to an estimated $58 million per seat aboard SpaceX's Dragon vehicle or Boeing's CST-100 Starliner vehicle.