SpaceX Might Send Humans to Space Next Year
When it happens, it will be a game changer for space travel as we know it.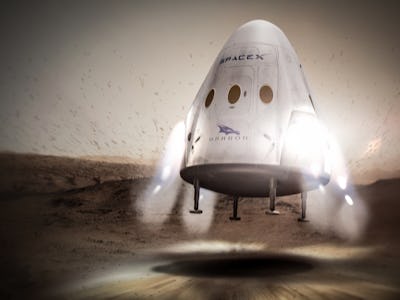 SpaceX
Between companies like SpaceX, Blue Origin, Orbital ATK, Boeing, and many more, there's no shortage of private companies vying to turn space travel, exploration, research, and operations into a profitable commercial enterprise. And these companies are making big strides: according to NASA's director of commercial spaceflight development, Phil McAlister, "less than a year from now we may see our first test crewed flight."
This is new, and not a lot of people have had a lot of experience on this," McAlister said on Tuesday at the NASA Advisory Council Human Exploration and Operations Committee meeting.
NASA's job is to provide the expertise and oversight that gives these companies a chance at success while adhering to a strict, high standard of safety and reliability, he said, noting that NASA's role in helping get these companies off the ground (quite literally) cannot be understated.
McAlister emphasized that the evolution of the Commercial Crew Program has finally moved away from being dominated by policy discussions, and to a point where "we are riding through a lot of these very difficult activities" — namely, design, construction, and testing.
"Overall I'm pretty pleased with the pace of us getting through these," he said.
The two big companies NASA is working with are SpaceX (which aims to use its flagship Dragon capsule as a vehicle for human travel) and Boeing (which has the same goal for its CST-100 Starliner). Both companies are on a strict schedule of milestones that will culminate in astronauts launching onboard the vehicles and docking with the International Space Station.
If all things go well, SpaceX should be ready for a human test flight by August 2017 or earlier; Boeing, by February 2018. If both tests are successful, SpaceX will be certified to handle crewed trips to the ISS by October 2017; Boeing, by May 2018.
There are still a lot of questions up in the air (will the crews be private employees or NASA astronauts or a mix? How long will the vehicle need to stay in orbit? Will the uncrewed test flight occurring before the crewed test also dock to the ISS?), but overall McAlister was very enthusiastic about the progress being made by both companies.
He was particularly surprised SpaceX decided to design its own spacesuit, but "they're really doing a good job on that."
"Every time I go down [to visit SpaceX's Cape Canaveral operations] there is something new to see," he said.
McAlister also discussed the new unfunded Space Act Agreement reached with Blue Origin to support that company's efforts to build and operate an orbital human transport system. So far, Jeff Bezos and his people can only send their flagship New Shepard rocket up to suborbital space, but Blue Origin is still very intent on developing an orbital launch system, complete with a space vehicle, reusable booster, launch vehicle, and ground and mission operations — "the whole gambit."
There's also good progress being made by Sierra Nevada and its Dream Chaser vehicle (reminiscent of the old space shuttle design), which McAlister called "very impressive." NASA expects to use Dream Chaser to fulfill six ISS resupply missions between 2019 and 2024.
The main factor that will spell out whether these companies meet their goals comes down to funding. The CCP was awarded the full $1.24 billion requested budget for the 2016 fiscal year, and McAlister is hoping Congress will appropriate the full request ($1.18 billion) again for the year 2017. There's a big fear at NASA that if funding falls short, NASA's ability to help its commercial partners will be diminished in unanticipated ways.
Still, McAlister remains confident Boeing and SpaceX will soon make history as the first private companies to send humans to space. Their schedules are "optimistic, but achievable," and so are the overall goals.
An earlier version incorrectly listed the dates of crewed test flights for Boeing and SpaceX. Inverse regrets the error.