NASA Unveils Its Dream Team of Astronauts for the First Commercial Flight
Meet the nine astronauts about to make history.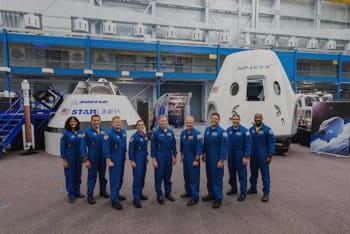 NASA
NASA has announced the first astronauts to fly to the International Space Station in spacecraft provided by SpaceX and Boeing. As the Commercial Crew Program's first crewed test flights, the team will not only make history as US astronauts aboard commercial spacecraft, but they will be the first to fly American vehicles launched from American soil since 2011 when NASA retired its space shuttle program.
The agency assigned nine astronauts to crew the first test flight and mission of both Boeing's CST-100 Starliner and SpaceX's Crew Dragon. Although this is the first commercial crew program, NASA says it worked closely with the private companies throughout the process of developing and testing the vehicles, ensuring they comply with the US agency's safety and performance requirements.
"I will tell you that space has transformed the American way of life," NASA Administrator Jim Bridenstine said before announcing the individual crew members on Friday. Speaking alongside representatives from Boeing and SpaceX, Bridenstine listed the ways in which satellites enable daily American living, from food production and energy to national security and banking. "All of these capabilities," Bridenstine explained, "were blazed by a trail that was NASA."
After listing the intricacies of daily American life made possible by space travel, it became clear why the US government took interest in improving the country's domestic spacecraft production, even if aided by commercial companies. Bridenstine acknowledged Senator Ted Cruz and members of Congress in the room before explaining how "small contributions from taxpayers" has led to NASA's expansion and an overall improvement of American life.
"The health of NASA and space program is getting stronger every day," he said to momentous cheering. "We appreciate you."
Bridenstine frequently mentioned his feelings of patriotism while announcing the first commercial crew astronauts, which was echoed in the cheering and chanting of "USA!" while listing the home state of each astronaut slated for takeoff. "We are on the brink of launching American astronauts on American rockets from American soil," Bridenstine explained. Each astronaut already has extensive experience working with US military, NASA, and international agencies, and yet together they will make history as the first American commercial crew, creating an all-American mission into space that has not existed for seven years.
Starliner Test Flight Astronauts
Eric Boe
Miami-born and Atlanta-raised, Boe is a former Air Force test pilot who became a colonel before joining NASA in 2000. Previous missions include the STS-126 and Discovery.
Christopher Ferguson
Philly's own Chris Ferguson is a retired Navy captain who not only piloted space shuttle Atlantis for STS-115 but commanded shuttle Endeavour on STS-126 and Atlantis for the final flight of the Space Shuttle Program, STS-135. Although he retired from NASA in 2011, he has been an integral part of Boeing's CST-100 Starliner program.
Nicole Aunapu Mann
The California native completes the trifecta of former military on the Starliner. Mann is a former lieutenant colonel in the Marine Corps and F/A-18 test pilot with more than 2,500 flight hours behind her. Mann was selected as an astronaut in 2013 and this will be her first trip to space.
Crew Dragon Test Flight Astronauts
Robert Behnken
The former Air Force colonel from St. Ann, Missouri has a doctorate in engineering and has been an astronaut since 2000. He flew aboard space shuttle Endeavour twice, for the STS-123 and STS-130 missions, during which he performed six spacewalks.
Douglas Hurley
New York native Hurley has also worked with NASA as an astronaut since 2000. Before piloting the Endeavor for STS-127 with the space agency, he was a test pilot and Marine Corps. colonel.
Starliner First Mission Astronaut
Josh Cassada
The Minnesota native is a Navy commander with more than 3,500 flight hours across more than 40 aircraft. This will be his first spaceflight.
Starliner First Mission Astronaut
Sunita Williams
"Suni" Williams came to NASA as a Navy captain. Since becoming an astronaut in 1998, she has spent 322 days aboard the International Space Station, where she performed seven spacewalks.
Crew Dragon First Mission Astronaut
Victor Glover
The California native is a Navy commander and test pilot with almost 3,000 hours flying more than 40 aircraft. In addition to his 24 combat missions, he has made 400 carrier landings. This will be his first spaceflight.
Crew Dragon First Mission Astronaut
Michael Hopkins
The Air Force colonel was born and raised on a farm near Richland, Missouri. He was selected as a NASA astronaut in 2009 and went on to spend 166 days on the International Space Station, conducting two spacewalks.
"The men and women we assign to these first flights are at the forefront of this exciting new time for human spaceflight," said Mark Geyer, director of NASA's Johnson Space Center in Houston. "It will be thrilling to see our astronauts lift off from American soil, and we can't wait to see them aboard the International Space Station."
These nine astronauts will take part in test flights scheduled for mid-2019, with flights to the ISS to follow.