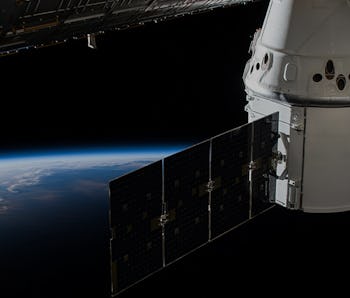 Innovation
SpaceX: Here's When the Crew Dragon Will Likely Fly Astronauts to Space
The launch is coming soon.
SpaceX
SpaceX is about to embark on a new frontier: sending people into space.
Elon Musk's space-faring company has made its name sending cargo and satellites into the stratosphere for fee-paying customers, but a partnership with NASA means the firm will soon start sending astronauts to the International Space Station.
Unfortunately, it may take a bit longer than expected to reach this goal. Hans Koenigsmann, SpaceX vice president of build and flight reliability, suggested on Monday that a launch could take longer than anticipated due to issues with developing the Crew Dragon capsule.
"I'm pretty optimistic at this point in time because we have a good path forward," Koenigsmann said in a conference call attended by Reuters. "But like I said, still not quite done. My emphasis is really on making sure this is safe…by the end of this year, I don't think it's impossible, but it's getting increasingly difficult."
Musk originally proclaimed in August 2018 that it could send humans into space by April 2019. The project has faced a number of issues, including a fire during a test in April. SpaceX explained Monday the explosion was due to a titanium component failure.
Koenigsmann's comments suggest that SpaceX's first human spaceflight may not arrive until 2020. It comes after a Government Accountability Office report last month, which stated that "both contractors have run into chronic delays." Boeing, the other contractor aiming to fly humans with its CST-100 Starliner capsule, is also expected to miss its deadlines.
Time is of the essence. When NASA axed the shuttle program in 2011, it started sending astronauts to the space station by hiring seats on Russian Soyuz rockets at $81 million per seat. That contract with Roscosmos expires in September 2020, and the Government Accountability Office has warned that NASA needs a backup plan in case SpaceX and Boeing experience further delays.
SpaceX Crew Dragon: Why the Capsule May Not Fly in 2019
NASA first chose the two firms for its commercial crew program back in 2014, after the pair unveiled its capsule designs. The agency revealed its team of astronauts in August 2018. However, delays resulted in the agency extending its Roscosmos contract in February 2019, pushing the deadline from November 2019 to September 2020.
SpaceX completed a major milestone in March when it sent up 400 pounds of cargo in a "Demo-1" mission in March. It was the first time that a commercial capsule autonomously docked to the space station. "Ripley," a dummy that bore a resemblance to "Starman," was affixed with sensors to collect data about the trip. The test was meant to precede an in-flight abort test, before moving onto a "Demo-2" manned crew mission.
SpaceX hit a major snag in April, when a static test fire at Landing Zone 1 in Cape Canaveral, Florida ended with an "anomaly." Captured video footage showed what looked like an explosion. The test was meant to focus on firing the Super Draco thrusters, used during in-flight abort tests.
On Monday, SpaceX further clarified on its website what happened in April. Around 100 milliseconds before the eight Super Draco thrusters were ignited, an issue suddenly emerged:
Evidence shows that a leaking component allowed liquid oxidizer – nitrogen tetroxide (NTO) – to enter high-pressure helium tubes during ground processing. A slug of this NTO was driven through a helium check valve at high speed during rapid initialization of the launch escape system, resulting in structural failure within the check valve. The failure of the titanium component in a high-pressure NTO environment was sufficient to cause ignition of the check valve and led to an explosion.
This reaction between the titanium and the NTO was unexpected, and its failure led to a wealth of data for future testing. The team has tweaked the design in a number of ways to avoid a similar accident, like using burst disks instead of check valves to seal until placed under high pressure.
Another failure that same month only emerged during a Congress committee hearing. The team was testing the parachute system at Delamar Dry lake in Nevada, looking at how the system works when one of the four parachutes fails. The other three did not work as expected, and a test sled took some damage. Gerstenmaier described the failure as a "gift" due to the extra data.
Boeing, on the other hand, has yet to complete its first demonstration flight. It is targeting this flight for the summer, using a United Launch Alliance Atlas V rocket from Cape Canaveral in Florida. Last month, it completed a series of parachute flight tests.
While SpaceX has yet to fly humans, it's already outlined far more ambitious plans. Its under-development Starship is expected to offer the ability to send 100 humans to Mars and beyond. The firm is expected to detail a full-size prototype later this year.