Elon Musk Says Tesla Pickup Truck Will Have Cyberpunk 'Blade Runner' Design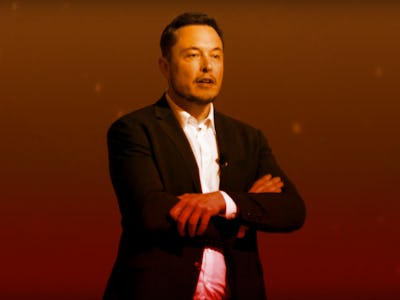 SpaceX
Elon Musk is working on a pickup truck, and it's going to be "heart-stopping." In an interview published Friday, the Tesla CEO shared more details about his mysterious passion project, which he names as the upcoming vehicle he's most excited about.
During the interview with Recode's Kara Swisher, Musk said that "I can't talk about the details, but it's gonna be like a really futuristic-like cyberpunk, 'Blade Runner' pickup truck. It's gonna be awesome, it's gonna be amazing. This will be heart-stopping. It stops my heart. It's like, oh, it's great." He went on to state that "I actually don't know if a lot of people will buy this pickup truck or not, but I don't care," before stating that "I do care, eventually" as "we wanna get gasoline, diesel pickup trucks off the road." Musk said that "if there's only a small number of people that like that truck, I guess we'll make a more conventional truck in the future. But it's the thing that I am personally most fired up about."
See more: Elon Musk Teases Tesla Pickup Truck 'Next-Level' Future Vehicle
Musk has been gradually upping the ante around the vehicle, first suggested back in the second master plan in July 2016. In that document, the truck was listed alongside the now-in-production Model 3 and the upcoming Model Y sports utility vehicle as the three new products that could help bring electric vehicles to a wider market. Musk said during last week's earnings call that the truck would come after the Model Y.
Back in June, Musk took to Twitter to take suggestions around the pickup truck. Musk said the truck would have dual-motor all-wheel drive, "crazy" levels of torque, and suspension that could dynamically adjust for load. He also said that the car would automatically parallel park and have 360-degree cameras and sonar, suggesting the vehicle could use the same "Hardware 2" sensor suite found on every shipping Tesla since October 2016 designed for fully autonomous driving.
With the pickup truck set to launch after the Model Y, a reveal could be just around the corner. Musk said during the earnings call that the Model Y prototype has been approved for production, with plans for full production by 2020. In a July interview, Musk said the SUV will likely debut in March next year.
Of course, Tesla isn't only targeting the mass market with its upcoming cars. New images and videos show the second-generation Roadster is taking shape ahead of its 2020 release.