Incredible Video and Photos Show Tesla Roadster 2020 Prototype in Action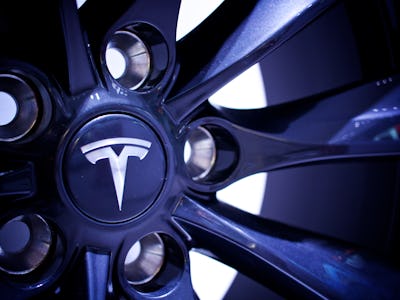 Flickr / cchana
The upcoming Tesla Roadster has been doing the rounds in prototype form. The company's second-generation supercar is set to screech onto streets sometime in 2020, but that hasn't stopped Elon Musk and co from displaying its high-end design at a stream of auto shows.
The car was spotted at the ArtCenter College of Design in Pasadena, California, over the weekend, where Tesla head designer Franz von Holzhausen went to school. The college hosted a classic car event that showed a number of timeless designs alongside future-facing vehicles like Holzhausen's creation. Images and videos from the event have been gradually making their way onto social media, wowing onlookers.
The vehicle is set to stun when it launches in 2020. For a base price of $200,000, buyers will get an all-electric car capable of 0 to 60 mph in just 1.9 seconds, a range of 620 miles on a single charge through a 200 kilowatt-hour battery, and a top speed of over 250 mph. The car was unveiled at the Tesla Design Studio last November, as part of an event that also unveiled the Semi electric truck set to hit roads next year.
Onlookers have been impressed by the future car, as seen by this Reddit submission that received over 8,000 upvotes on Wednesday:
The appearance at the ArtCenter College of Design included a brief demonstration of the prototype in action:
The car was also spotted by Instagram user "dom_schulz" at the same show:
Another image shows the car from the side view:
A close-up of the front:
This image came from Instagram user "zolinator":
Instagram user "xaviercardesign" was able to capture the rear as he sketched it:
Another shot from "newedge12345" showed the interior of the car:
Another image showed the close-up of the wheel:
Another showed the rear:
The car has been spotted in a number of other colors — a white edition received comparisons to Star Wars stormtroopers.