Tesla Roadster Images Show How a 'Star Wars' White Edition Would Shine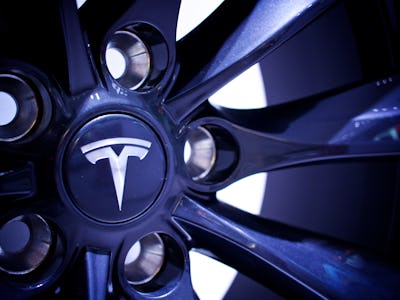 Flickr / cchana
An image of Tesla's upcoming supercar shared on Monday, pictured in a sleek white edition, has drawn comparisons to Star Wars. The second-generation Roadster, set for release in 2020, is expected to redefine expectations for a high-end electric car with new levels of performance.
The images of the white model were shared on Reddit and Imgur with the caption "Stormtrooper," referring to futuristic white-armored Star Wars soldiers that serve in the army of the Galactic Empire. The images were taken at the Grand Basel auto event in Switzerland, held on September 6 to 9, where attendees were invited to witness a prototype of the car ahead of its launch. The Roadster serves as the sequel to the company's first-ever car that launched back in 2008, but at the initial unveiling of the new car at the Tesla Design Studio last November, the red edition was the only working prototype on display. The new design has proved a major hit with the Tesla Reddit community, ranking as the 13th-highest voted post of all time at the time of writing.
*See more: Elon Musk Teases 2020 Tesla Roadster Boosts During Battery Breakdown
The $200,000 car boasts impressive stats. It offers acceleration times of 0 to 60 mph in just 1.9 seconds, plus 0 to 100 mph in 4.2 seconds, although one professional driver claims these figures are conservative. It has a top speed of over 250 mph, a wheel torque of 10,000 Nm, and still packs enough room for four people.
However, these specs may not reflect the final product. CEO Elon Musk revealed last month that the 200 kilowatt-hour battery, which provides over 600 miles of range per charge, is essentially two Model S P100 packs put together. Tesla can double the modules without doubling packaging and other components, leading to around an 80 percent volume increase resulting in a 4-to-5-inch higher pack. Musk suggested Tesla could go even further, with savings of "at least 10, maybe 20 percent."
Tesla may offer more details on the vehicle, when it publishes its next earnings report around the start of November. The report may also provide more details on production of the company's ultra-cheap Model 3 electric vehicle.
There's more to come in the future, with Musk teasing that the car will come with a SpaceX options package.