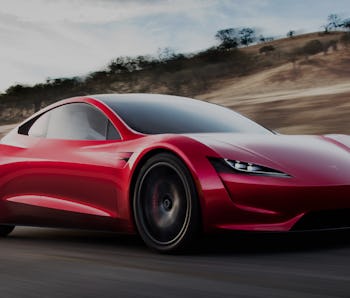 Innovation
Tesla Roadster: Could the Next Gen Roadster Debut at Grand Basel?
Tesla
Tesla has been hard at work ramping up the specs on its second generation Roadster, the high end electric sports car that's helped make electric cars sexier than their reputation has typically allowed. In a recent interview with the YouTuber Marques Brownlee, CEO Elon Musk vowed to beat the specs presented when the car was first introduced in 2017. And a recent invitation sent to Tesla customers suggests a new in-person viewing might be imminent.
That's according to the invites which were sent earlier this week and obtained by Elecktrek. According to them, lucky customers have the opportunity to win tickets to a September 5 event at Grand Basel, a swanky new auto show held in Miami Beach, Hong Kong, and Basel, Switzerland.
"This September, Tesla will be showcasing a surprise at Grand Basel," the invitations read. "As a Thank you for your support, you're invited to win two complimentary VIP tickets to join us on Wednesday, September 5."
Given Grand Basel's vibe — it bills itself as "the ultimate show for automotive masterpieces" — the Tesla Roadster has quickly emerged as the most likely suspect for the surprise (the invitation also featured a teaser image that strongly evoked the Roadster's red finish).
As Fred Lampert noted, it's hard to see how it could be anything but the car show debut of the new Roadster, given that Tesla usually introduces new launches at its own events. By teasing the car as a "surprise," and only sending the invitation to a handful of European customers, it seems like the company is just trying to generate a little buzz and speculation.
Tesla's new Roadster is supposed to wow. The $200,000 car will have a range of more than 600 miles, a top speed north of 250 miles per hour, and will be able to go from zero to 60 in under 2 seconds by engaging something called "Plaid Mode" (we know Musk likes his pop culture references.) Per Elecktrek, customers who enrolled in the contest will be notified over the weekend if they'll be able to make the trip.