Elon Musk Teases Tesla Pickup Truck 'Next-Level' Future Vehicle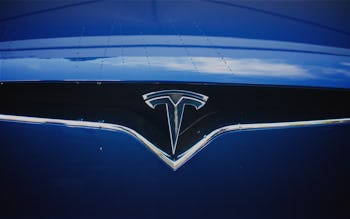 Flickr / davidgsteadman
Tesla's pickup truck is sparking into life. On Wednesday, CEO Elon Musk revealed during the company's third-quarter earnings report that the plan to electrify even more vehicles is continuing, describing the truck as the project he's "most excited about," declaring: "I think it's going to reach the next level stuff there."
News about the pickup truck has been relatively quiet over the past few months, as attention focuses on ramping up production for the mass market Model 3 sedan. But the pickup truck isn't a throwaway idea: Musk claimed back in December 2017 that he's had the core design and engineering elements in his mind for the past five years, stating that he's "dying to build it." In the same tweet, he also said that the truck would come after the Model Y entry-level sports utility vehicle. That project is showing strong progress: on Wednesday, Musk said that the prototype has been approved for production, with plans for full production by 2020.
See more: Elon Musk Reveals Loads of New Details About the Tesla Pickup Truck
In his June tweets, Musk revealed a number of details about the truck. His posts suggest a Tesla Autopilot-level system, with the ability to automatically parallel park through the use of 360-degree cameras and sonar sensors. It will also use dual-motor, all-wheel drive, a suspension that adjusts dynamically for load, and "crazy" levels of torque. Musk suggested that these features would all be present in the base model.
The pickup truck forms part of the wider second master plan announced in July 2016, which detailed a number of long-term projects that will bring electric vehicles to a wider market. The truck was bundled with the Model 3 that entered production 12 months later and is expected to reach global demand of up to one million cars per year, and the Model Y that's due for an unveiling in March next year.
With Tesla eyeing global expansion for the Model 3 that could send Tesla demand skyrocketing next year, the pickup truck could come as part of the company's new, mass market reach.