Elon Musk Reveals What He Most Wants to Do Next at Tesla in Twitter Chat
Including what could be next after the Model Y.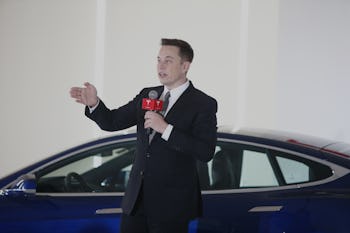 Getty Images / VCG
Elon Musk spent the day after Christmas checking in with owners of Tesla cars, thanking them for their support and asking what they want his company to get to work on in 2018 and beyond. In the process, Musk dropped some major hints about what we could see next, including a specific kind of vehicle he most wants to make.
"Wanted again to send a note of deep gratitude to Tesla owners [worldwide] for taking a chance on a new company that all experts said would fail," Musk tweeted Tuesday. "So much blood, sweat & tears from the Tesla team went into creating cars that you'd truly love. I hope you do. How can we improve further?"
Understandably, a lot of the responses focused on immediate, targeted responses to the existing Tesla vehicles, but one response focused on a future car the tweeter — and Musk himself, it turns out — would like to see: an electric pickup truck.
Musk has previously said the Model Y will be the next car the company focuses on developing after the Model 3, which itself still has the company in production hell as it seeks to ramp up production and achieve the scale necessary to fulfill orders. The reported plan for the Model Y is a more cost-efficient crossover utility vehicle with falcon-wing doors, drawing on elements of the Model 3 and the Model X.
Exactly when Tesla would be able to focus on a pickup would likely depend on when it can sort out logistics with the Model 3 and complete development of the Model Y, and there's not yet a clear timeline for the latter. But consider 2018 to be the official first year of Tesla pickup rumors, even if we're a ways way from seeing the reality.
Musk dropped one other hint when asked about the size of the truck, saying he wanted to include what he thinks is a "really game-changing feature."
The rest of the requests were more incremental, with the most exciting being the prospect of intelligent windshield wipers that can respond to rain levels. Musk said this would be coming very soon.
He acknowledged the browser for the Model S and other cars is "terrible" and needs significant upgrades, which should start happening sometime in 2018.
He also promised major improvements for Tesla's maps and navigation systems. Whether this would be part of the same upgrade that would see the improved browser is an open question, but it sounds like major updates could be coming by next spring.
Throw in some goodies with heated windows and general ability to control internal heat settings with a push of a button.
His other responses were a little less concrete, though at least the "Done" indicates Musk plans to address what sounds like what can be a pretty annoying issue with the bluetooth setup.
This proposed theft response sounds like the sort of clever, next-level automation that Musk and Tesla like to make their trademark. Whether it's actually something to expect anytime soon is a little hard to parse from a simple "Ok," but at least it's on Musk's radar.
He also said "sure" in response to this suggested feature for the app, which would inform others when the Tesla and its driver can be expected home.
And here's a whole laundry list of features that Musk signed off on, but it ended up being the last one that really caught his eye.
Honestly, based on everything we know about Elon Musk and his love of whimsical bonus features, we can probably expect the first Tesla upgrade of 2018 to be Disco Mode. Actually, there's still a few days left in 2017, no reason that can't be Tesla's final big splash.