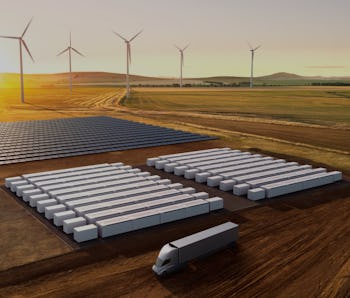 Innovation
With Tesla Megapack, Elon Musk Is Quietly Shifting Hard Toward Clean Energy
The company has big plans for the future of storage.
Tesla
Tesla is making a big push toward a clean energy future as CEO Elon Musk's new plan comes into focus.
On Monday, the company announced the Tesla Megapack, a utility-scale energy storage solution that offers 60 percent greater energy density compared to the existing Powerpack. It can directly connect to renewable energy sources like solar and wind, providing a constant source of power when the sun sets or the wind stops blowing. Tesla claims it can deploy a one gigawatt-hour plant over three acres in under three months, which is around four times faster than a comparable fossil fuel plant.
It sounds like a big step forward for the electric car company, which maintains a power storage business that leverages its battery knowledge in new products. But way back in 2006, Musk described Tesla's "overarching purpose" is "to help expedite the move from a mine-and-burn hydrocarbon economy towards a solar electric economy, which I believe to be the primary, but not exclusive, sustainable solution."
Over the past few months, Musk has given more details about how this would work. It includes a pledge to produce more batteries than ever, speed up production of the solar roof, charge the company's cars with public solar stations, and now roll out a Megapack that could make renewables even more competitive with fossil fuels.
Tesla Megapack: How Its Car Business Set Up the Future of Energy
Tesla has always held this broader goal, but its earlier work has focused mostly on cars. Over the course of the previous two years, Tesla has focused on increasing production of its entry-level Model 3 to reach a broader range of consumers and bring electric cars to the mass market. It's planning to launch a pickup truck sometime in October and its Model Y SUV sometime next year, completing its three-part strategy of offering cheaper cars.
The total number of Teslas delivered since its first car in 2008 shot from around 250,000 in the second quarter of 2017 to nearly 700,000 two years later. Musk has previously suggested that Tesla could eventually produce 1 million Model Y SUVs per year alone, edging closer to the likes of General Motors that produces around 9 million cars per year.
All of this is helping to end what Musk described in September 2018 as "the dumbest experiment in human history," particularly as transport accounts for around 16.5 percent of global emissions.
But during this time, Tesla has been laying the groundwork for its future transition. It developed new battery technologies with its partner Panasonic to reach low prices per kilowatt-hour. In 2016, it purchased solar firm SolarCity and unveiled a house of the future, which used a Powerwall battery and Tesla Solar Roof to charge a Tesla Model 3 in the garage. A few months later, Tesla ditched the word "Motors" from its name.
In March 2019, Musk declared that this was the year of the Solar Roof and Powerwall. With Model 3 production in full swing after a painful ramp-up process, the company was no longer cell-starved and could afford to pledge more battery resources to non-car projects. Having laid this groundwork, Musk has been gradually sketching out the details of his broader plan to transition the world onto clean energy.
Tesla Megapack: How It Fits Into Tesla's Broader Goals
The Megapack is a beast. It offers a maximum energy capacity of three megawatt-hours at 60 percent greater density than the Powerpack. It enables gigawatt-scale projects at an installation rate that's 10 times faster than before. One gigawatt-hour, the company claims, is enough storage to power every home in San Francisco for six hours.
Tesla has installed energy storage before, but this should greatly simplify the process. Previous clients include the Manchester Science Park in the United Kingdom, Puerto Rico hurricane recovery projects, and GivePower, which uses the batteries to power a desalination plant that provides 24-hour clean water.
Watch a video of Tesla's Samoa Powerpack installation in action:
The Hornsdale project in South Australia ranked as the world's largest battery when it was first installed in November 2017 at a capacity of 100 megawatts.
Others have since aimed to beat the Hornsdale record, like the Saudi Arabia 108-megawatt "virtual" plant that links up 10 separate storage solutions. The Florida Power and Light Company plans to switch on a 409-megawatt installation in 2021.
The market is expected to grow rapidly over the coming years. Wood Mackenzie predicted in April that global energy storage deployments will jump from 12 gigawatt-hours in 2018 to 158 gigawatt-hours in 2024.
Tesla has installed one gigawatt-hour of energy storage over the past year alone, doubling its all-time total. Perhaps it's of little surprise that the company claims "this number will continue to accelerate exponentially in the coming years."
Tesla Megapack: How Production Will Boost Its Output
Earlier this month, during the company's second-quarter earnings call, Musk explained how the company plans to produce more battery storage than ever before:
In order to really make a fundamental shift in the world's energy usage and really transform things to a sustainable energy future, if you're not in the terawatt-hour range, it's like, it's a nice news story, but it is not fundamentally changing the energy equation.
Musk later clarified that around a quarter to a half of that two terawatt-hour output would be for stationary storage. One terawatt-hour of capacity per year would blow Wood Mackenzie's predictions out of the water. The analysis team predicted industry-wide annual global deployments would reach one-sixth of that by 2024.
Producing multiple terawatt-hours of battery storage per year is the sort of goal that could radically shift how much of the world uses sustainable energy. Musk previously claimed that 100 "Gigafactories" would produce enough energy to transition the world onto sustainable energy.
The Gigafactory, a battery-producing behemoth in the Nevada desert, became the largest producer of battery power in the world back in August 2018 with 20 gigawatt-hours of power. Musk revealed earlier this week that it now produces 28 gigawatt-hours, with the whole company hitting around 35 gigawatt-hours. The Nevada plant is expected to eventually reach 150 gigawatt-hours when complete.
Tesla is part of a broader shift in battery production. Benchmark Minerals, which tracks production, claims 168 gigawatt-hours will be produced in total this year. Another 68 plants are expected to add a further 1.45 terawatt-hours of annual capacity by 2028. This covers all types of batteries, not just grid-scale storage.
This jump in overall production could be entirely necessary to avoid ecological disaster. Wood Mackenzie research found that during the polar vortex, the United States' East Coast would have needed around 277.9 gigawatts of storage to keep the lights on.
Tesla Megapack: The Heart of a Growing Energy Shift
Beyond the Megapack and overall production, Tesla is making further inroads to facilitate this shift. Its third-generation supercharger supports solar energy at its Las Vegas installation, which went live this month. Musk stated that he expects to reach 1,000 solar roofs per week by the end of this year.
Even the cells themselves are due for further innovation. Tesla purchased Maxwell Technologies in February for $218 million. The company has identified a path to doubling battery density to 500 watt-hours per kilogram, which could enable an electric jet to take off, and has plans to ditch controversial elements like cobalt. At a June shareholder meeting, Musk even suggested "we might get into the mining business" to further vertically integrate its business.
The world only takes around 20 percent of its electricity from renewables, and human-fueled climate change is contributing to ever-increasing temperatures. A battery arms race, pushed by big Tesla investments, could spark the shift needed to drastically reduce emissions.