Tesla Makes It Official: It's Just Tesla Now, Not Tesla Motors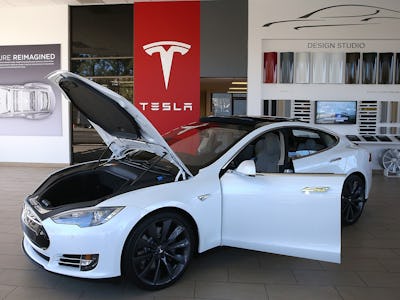 Getty Images / Justin Sullivan
On Wednesday, Tesla Motors officially told the United States government that it's doing the Madonna thing — dropping a last name and just going by a single word: Tesla. Well, Tesla Inc., to be exact.
With the submission of a Form 8-K to the United States Securities and Exchange Commission on February 1, Tesla declared its intention to change its focus from being a car company to being something more. Changing its name is the final step in a shift away from Elon Musk's original master plan for the company, and towards a new vision for the company.
The move towards becoming Tesla Inc has been a subtle shift Musk first hinted at in July when he started tweeting about creating Tesla's Master Plan, Part 2. Since then, the company has shifted its official focus from sustainable transport to sustainable energy, incorporating renewable solutions to transportation and living alike.
A Form 8-K is used to inform the Security and Exchange Commission of information about a company that is important to the investors in the company. It's a broad type of form that covers things from changes in board members to anything that will change the direction or value of a company. It is usually used to report changes in a company that aren't part of normal quarterly reporting. In this case, Tesla's name change was filed using a designation that let the SEC know that it changed its charter during the fiscal year.
All that really means is that the name change was something the company decided to do now, instead of waiting. This move makes a lot of sense with the huge spread of tech that Tesla is involved in now, including the Gigafactory and new merger with Solar City. Going from Tesla Motors to Tesla is really just embracing the idea that Tesla is now for more than fast, electric cars – it's a company that's looking at a larger future built on sustainable energy.