Elon Musk Tells Tesla to Get 'Hardcore' Ahead of Model 3 Launch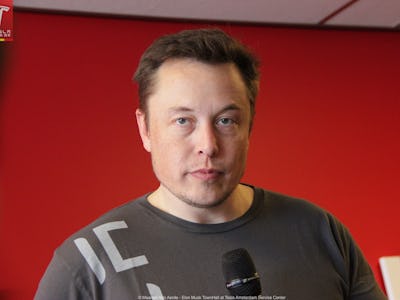 Flickr / TeslaClubBE
Elon Musk wants new employees to feel the pressure. As Tesla gears up to start production of the Model 3 in July, the company has decided to issue a new version of its first day orientation and handbook materials to new employees. The CEO does not pull any punches as he calls on the company to get "hardcore and demanding" in the face of big competition.
An email announcing the move was obtained by Electrek on Thursday. In the message, Musk explains that the last time the company rewrote the handbook was four years ago, when the company numbered just 4,500 employees. Today, Tesla employs around 33,000 people, and this number will increase as the company plans to start producing the Model 3.
Tesla has to be hardcore and demanding, not for the hell of it, but because we are fighting for a good cause against giant, entrenched competitors who just want the status quo to continue. The list of companies that want to kill Tesla is so long, I've lost track – a week doesn't go by without some "Tesla Killer" article. The only way for a little company to prevail against those much larger companies is to work faster, smarter and harder.
The company is gearing up for one of the biggest challenges in its existence. Tesla's Model 3, the cheapest vehicle the company will produce starting at $35,000, is expected to bring the company to a mass audience. Currently, the company produces around 100,000 cars per year, but with a mass expansion of production, that's expected to jump to 500,000 by the end of 2018. This still pales in comparison to major automakers like General Motors, who produce around nine million cars per year, but Tesla is clearly gearing up to take on these larger firms.
Part of this expansion will involve hiring more staff. The Gigafactory, a 5.8-million-square-foot building under construction in the Nevada desert, will be the largest building in the world when complete. Beyond this, the company plans three extra Gigafactories, set to be announced in the coming year. All that new factory space will require more employees.
Alongside a rewritten handbook, Tesla has also hired a [new head of human relations(https://www.inverse.com/article/32044-gaby-toledano-ea-exec-tesla-model-3-production). Gaby Toledano, a former Electronic Arts executive, will oversee this expansion and report directly to Musk. With all these efforts combined, Musk is gearing up to rapidly expand the company and energize the team for the next stage of its electric car vision.