Tesla Powerpack's Incredible Speed is Enabling an Off-Grid Science Park
Manchester Science Park is fueling a change in technology.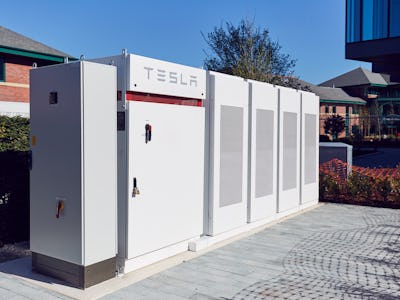 MSP
Tesla's batteries are helping a British science park go off-grid. Manchester Science Park announced this week the installation of a series of Powerpack lithium-ion batteries, a product touted by CEO Elon Musk as an ideal method for storing solar and wind energy to offer a consistent supply of clean power thanks to its incredible reaction times.
"We have bold plans to harness the opportunities provided by advanced energy," Tom Renn, managing director of the park, said in a statement. "We envisage that within 12 months, the Bright Building [park headquarters] will be an energy island – self-sufficient and operating without reliance on the National Grid."
The Manchester installation is part of a £400,000 ($557,000) advanced energy strategy, which also covers two electric car charging points. The system installed outside the Bright Building headquarters features four Powerpacks and one inverter, with support for up to 16 more Powerpacks should energy demands increase. The park is hopeful that the pack will protect against changing commercial energy rates, while enabling a future shift to renewable energy.
Tesla's Powerpacks can rapidly plug the gaps in energy supply, a key feature for keeping the lights on. The park claims it activates in less than a second, faster than regular industry rates of around 30 seconds.
It's the latest in a series of wins for the product, with falling battery costs turning such solutions into a feasible way to store energy. Tesla installed the world's largest battery in South Australia last year, providing 100 megawatts in Hornsdale to plug gaps in energy — the sort that left 1.7 million without power in September 2016 after a brutal storm:
South Australia witnessed the pack's speed in December — when the Loy Yant power plant in Victoria suffered a failure, the pack delivered 100 megawatts to the grid in under 140 milliseconds, shocking national operators. Researcher Dylan McConnell found the battery could respond to the Australian Energy Market Operator's control signals to maintain energy supply at rapid speed, with a new signal sent out every four seconds.
Powerpacks were also used after a hurricane left Puerto Rico without power. In the wider industry, hurricanes near the Carribean last year led to a surge of interest in solar as a way of reducing dependence on the old grid model of energy.
"The cost and feasibility of implementing lithium-ion batteries has changed markedly in recent years, making commercial energy storage viable," Bev Taylor, head of energy for shareholder Bruntwood, said in a statement. "We'll be monitoring the cost savings and CO2 reduction in the coming months, with a view to installing further units at other Bruntwood buildings and developments, such as Circle Square, Alderley Park and Innovation Birmingham."
While the project has in part received funding from smart city project CityVerve, the park also agreed to a three-year finance package from Lloyd's Bank. Agreed as part of the bank's green lending initiative, the loan committed the park to spend more than £600,000 ($835,000) on sustainability improvements, increasing renewable energy usage in its buildings by 10 percent and reducing annual energy use from all assets by 3.5 percent per year.