Tesla Reveals 'Flagship' Puerto Rico Project, and It Looks Great
Elon Musk's big project has arrived.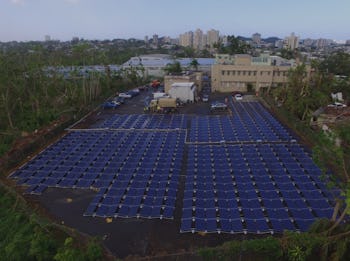 Tesla/Twitter
Tesla has rapidly set to work on a project to expand Puerto Rico's solar power facilities. Just days after Powerpack batteries were spotted at the Luis Muñoz Marín International Airport in San Juan, the company has shared images of an installation aimed at restoring power in the wake of recent hurricanes.
"Hospital del Niño is first of many solar+storage projects going live," Tesla said in a Twitter post Tuesday. "Grateful to support the recovery of Puerto Rico with Ricardo Rossello."
Governor Rossello first contacted CEO Elon Musk after the latter claimed on Twitter earlier this month that his company's solar installations could help restore power to the island, which at one point saw 93 percent of residents without energy. Setting up panels alongside battery packs mean renewable energy harvested during sunny days can be stored and used around the clock, and Musk has set up similar systems around the world.
"Let's talk," Rossello said in response. "Do you want to show the world the power and scalability of your Tesla Technologies? PR could be that flagship project."
The results of that discussion have come to fruition, just 18 days later:
Tesla also shared a work-in-progress image that shows the rapid turnaround time:
Beyond the hospital project, Musk has also donated $250,000 to help ongoing relief efforts.
Tesla is not the only solar company seeking to restore power to the island. Vivint Solar and Sunrun are two other firms joining up with local efforts, with a reported $2 million worth of supplies.
Outside of Puerto Rico, residents in hurricane-hit areas have been rushing to research solar as an alternative to the traditional grid system. As a decentralized alternative to an energy solution that requires miles of infrastructure, solar panels paired with a battery pack are forming a vital part of responses to hurricane restoration efforts.
If you liked this article, check out this video of an island that is now completely solar powered, thanks to Tesla.