Elon Musk's 'Flagship Project' Just Arrived in Puerto Rico
Tesla Powerpacks are arriving on the island.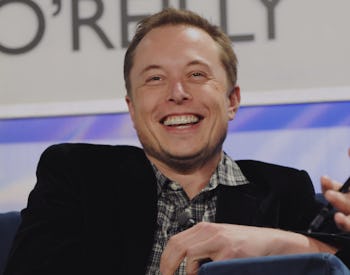 Flickr / jdlasica
Elon Musk's efforts to bring back power to Puerto Rico are taking shape. A new shipment of Tesla Powerpack battery systems has arrived on the island, days after the CEO spoke with governor Ricardo Rossello about using the company's technology to restore the hurricane-struck electric grid. Rossello said that Puerto Rico had the potential to become a "flagship project" for Tesla, a high-profile demonstration of the scalability of the company's battery and solar power systems.
José Valiente shared an image with Electrek of the Tesla Powerpacks lined up at the Luis Muñoz Marín International Airport in San Juan, the Puerto Rican capital. The images, posted on Sunday, show the Powerpacks arriving, ready for shipment to store grid energy.
Where the Tesla Powerwall stores around 13.5 kilowatt-hours of energy, aimed at a home setup, the Powerpack holds 210 kilowatt-hours and is intended for use with renewable energy sources to provide a constant supply of power, even when electricity is not being generated. The giant packs, stored in big grey covers, strike an imposing figure.
"Those are Iron Man suits," said Reddit user CamTheJam.
After Musk and Rossello spoke over the phone, Cal Lankton, Tesla's vice president of global infrastructure operations, met with the governor at his command center. Musk said on Twitter that medical equipment will have priority in determining where Powerpacks ship to first.
The efforts to bring power back online represent one of Tesla's biggest challenges to date, with the 3.5 million residents requiring around 5,000 megawatts. The shipments can't come soon enough. Reports from the Puerto Rico Electric Power Authority show just 14 percent of the island has electricity in the wake of Hurricane Maria.
The recent series of storms have encouraged a rush to solar across the southern United States and Caribbean islands. One solar comparison site, EnergySage, found that interest from consumers in Texas, Louisiana, and Florida spiked after the hurricanes hit the towns.
"We've spoken to a couple of folks in these areas, and they're realizing the grid needs some help," Vikram Aggarwal, CEO of EnergySage, told Inverse. "Our grid is old; it's the hub-and-spoke structure, and it may be time to think about more distributed generation and storage."
If you liked this article, check out this video of a man-made island that could power 80 million Europeans with clean energy.