Tesla Releases the Mythical $35,000 Model 3 While Shuttering Its Dealerships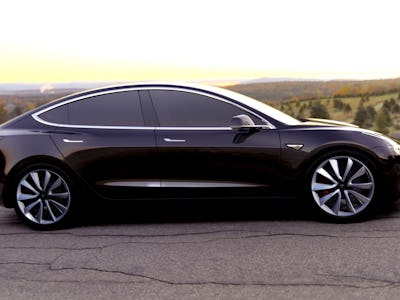 Tesla
The $35,000 Tesla Model 3, first teased by the electric car company two years ago this month, has finally arrived.
Tesla has announced that its standard Model 3 would be available for online ordering in the United States immediately, and also introduced a slightly pricer, "Plus" Model 3.
While Tesla always communicated to the public the Model 3 at this relatively low price point would arrive eventually and never immediately, those who'd only be able to afford the base price car might have thought the electric sedan a mere myth. Tesla put that idea to bed on Thursday.
Tesla also used the moment to announce it would shift all of it sales online, saying that it would close "many of our stores, with a small number of stores in high-traffic locations remaining as galleries, showcases and Tesla information centers."
Here are the main specs for the two new variants:
The $35,000 Tesla Model 3 will come with 220 miles of range, a top speed of 130 mph, and will accelerate from 0 to 60 in 5.6 seconds, according to the company.
The $37,000 Model 3 Standard Range Plus will offer 240 miles of range, a top speed of 140 mph, 0 to 60 acceleration of in 5.3 seconds, as well as an upgraded interior.
"For 6 percent more money, you get 9 percent more range, more power, and an upgraded interior," reads Tesla blog post that went live at 2 p.m. Pacific on Thursday. Tesla fans had been eagerly awaiting the news — many of them hoping for a Model Y update — ever since CEO Elon Musk began hyping the announcement on Twitter earlier this week.
Why Tesla Is Closing Stores
Closing its dealerships will certainly help streamline costs. In 2016, Tesla reportedly operated around 100 stores. In March 2016, customers lined up outside Tesla dealerships to put down reservations for the Model 3.
One man who lined up in Brooklyn told Inverse at the time his reasons for putting down a Model 3 reservation: "Not getting gas is probably the top, and then just the fact that from what I understand they're really… I've never even been in one: I just know that the build of them, the craft, is solid. It's a good machine." His dog trod the sidewalk behind him, on-leash. "It's very forward-looking, and -thinking, and yeah: I'd like to have a car like that. This'll be the first car I've ever owned as an adult. So I'd be proud to have it not be gas-powered."
Tesla's battles with state dealership associations are well-documented, making it very difficult to buy the cars in some states, making the shift to online-ordering only an expected one, though some may be surprised it arrived so soon.
Thursday's $35,000 announcement is the second notable decrease in price for the Model 3 this year. In February, Tesla reduced the price to $42,900 for the base model.
Fewer Dealerships, More Repair Centers
Musk has frequently remarked over the past year that Tesla has serious plans to innovate its repair infrastructure. Essentially, if your Tesla breaks down or is involved in a collision in some parts of the country, having it repaired is not as fast or easy as it would be had you owned another vehicle. Tesla expects to sell more than 350,000 vehicles in 2019, meaning it needs to quickly scale up its repair business.
Naturally, there are predictions so eye-popping in the Tesla blog post that it reads as if Musk wrote it himself:
"…we will be increasing our investment in the Tesla service system, with the goal of same-day, if not same-hour service, and with most service done by us coming to you, rather than you coming to us. Moreover, we guarantee service availability anywhere in any countries in which we operate.
Tesla will save money by closing its dealerships, which also cuts down on some ancillary expenses related to the dealership network, for example its lobbying efforts. The company spent $890,000 in 2018 lobbying in certain states that use franchise laws to prohibit automakers to sell directly to consumers. For example, Tesla was blocked from opening a dealership in Michigan after a 2014 change in state law no longer permitted direct manufacture auto sales.
The new Model 3 comes a month after Tesla reduced the number of full-time employees by 7 percent. Musk claimed in the announcement that he had "no choice" but to make the cutbacks.