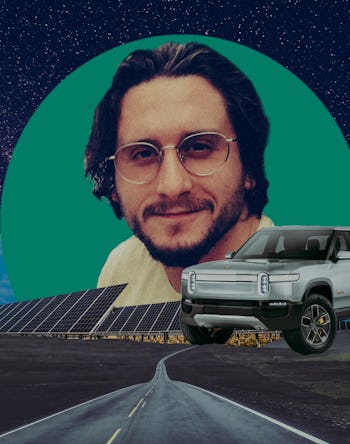 Innovation
Electrek Editor Fred Lambert Is a Driving Force in Electric Transportation
Lambert obsessed over electric cars so much on Reddit that he went pro.
Natasha Chomko, aka POST-WOOK
Fred Lambert looks out over the Hollywood Hills and sees something is wrong. The 27-year-old has been staying in a Los Angeles Airbnb for the past two months, around a 10-minute walk from sun-kissed Sunset Boulevard. While the last week has brought beautiful weather, today is a bit darker. Lambert suspects smog.
"That's why we need to keep working and accelerating the advent of electric transport!" he exclaims.
Lambert is the editor-in-chief of Electrek, and the brown clouds are perhaps the greatest sign that his work is far from over. Electric vehicles, Lambert explains, are the best example of a technology that can fight climate change without asking people to change their behavior. But before he joined Electrek, he felt that the media, rather than touting the benefits of this breakthrough, was biased against it.
Lambert regularly bounces between Los Angeles, where his girlfriend lives, and his native Montréal. On a regular day, he'll sit by the pool and write from his laptop, before taking some downtime in the afternoon to exercise.
In speaking with him, it's clear that his mission is never far from his mind. When he's not writing about the next development in transport, he's looking for leads, chatting about the industry on social media, and thinking about where the next step change comes from.
"I've followed every electric vehicle program over the past 10 years from the very start," Lambert says. This passion and wealth of knowledge means that when one searches for information about an electric car, Electrek, a startup that began in earnest in early 2015, normally comes up before established brands like the New York Times and Wall Street Journal.
For most journalists, taking a new media brand from zero to these heights in just four years would be cause for celebration. For Lambert, it's secondary to the wider goal of shaping the future of humanity.
See also: Fred Lambert: A "Brutal" Wake-Up Call Is Coming for Automakers in 2025
Growing up on the south shore of Montréal, Lambert would always hear his parents complaining about gas prices in Quebec. They would mention how great it would be to own an electric car and ditch the gas prices, but it really felt like a pipe dream even as late as in the '90s. Back then, electric propulsion was limited to golf carts and milk floats, and "Tesla" was just the Nikola Tesla and his famous coil.
One day, Lambert saw a documentary that convinced him electric cars were the future. Who Killed the Electric Car?, a 2006 documentary by filmmaker Chris Paine, documented the rise and fall of electric cars. The film starts with early 1920s experiments and jumps to the internal combustion engine, before examining the crushing fate of the General Motors EV1. Production on the major electric vehicle started in 1996, but this adventure proved short-lived, and automakers ended up crushing the few EVs they leased.
"That documentary really convinced me that electric cars should be the norm, but there were clearly some forces that made sure that didn't happen," Lambert says.
Tesla CEO Elon Musk has also recommended the documentary, citing the EV1's failure as the inspiration for the company's founders.
During high school lessons on energy efficiency, Lambert obsessed over the potential of electric cars. Why wasn't more being done to further this? How couldn't people see that gas-powered cars are inherently wasteful of energy? It was at this time he got a 1994 Toyota Tercel. It kept breaking down, so he switched it for a 2004 Hyundai Tiburon.
"That was my last gas car," Lambert says.
He graduated from high school in 2008 and studied business for a year at Édouard-Montpetit College before dropping out. In 2010, Lambert got involved in the Tesla Motors subreddit. He started writing lengthy posts on the state of the industry and became a moderator of the forum, which at the time had a "few thousand" subscribers. (It now has more than 477,000.) He would focus on correcting articles from CNBC, Wall Street Journal, or LA Times that he felt got the facts wrong about electric cars.
At this point, Lambert was living in a house "in the middle of the forest" and started working "nine-to-five" sales for a door manufacturer called Portes Milette, a company that served as the town's largest employer.
By day, Lambert was selling doors in the woods, but by night, he was the advocate for a new means of transport. That was when Seth Weintraub, the founder of 9to5Mac, came into the picture. The digital media executive had just bought a Model S sedan, and he'd fired up a small blog to document his experiences.
"He didn't like how the media was covering Tesla and electric vehicles back then," Lambert says. "So he started just a little blog; it was more of a hobby blog about his own experiences with the car and some quick blogging of other news about Tesla."
Electrek was only receiving a few thousand views when Weintraub asked Lambert in early 2015 if he wanted to start writing there. (He noticed Lambert's increasingly popular posts on the Tesla subreddit and reached out.) Like most other writers on Weintraub's brands, Lambert would get paid from the people that clicked on ads in his articles.
"I wasn't even thinking about getting paid about this!" Lambert says.
During his lunch breaks, and at night, he would scurry away his pieces, and the site gradually grew. By August it reached over 100,000 hits per month, and it made sense to quit his day job. Although his parents were a bit surprised — "it's always surprising to some people that you can just make money online" — his bosses "weren't that surprised" when he resigned, as he was "never shutting up about EVs."
"I was an evangelist way before that, so I would never shut up about it to my coworkers," Lambert says.
Electrek has grown rapidly from its five-figure monthly hit rate, reaching 1 million hits per month soon after Lambert quit his job. In June 2019, Electrek received 10 million unique visitors for the first time, Lambert tweeted this week.
He's settled into a firm routine, waking up at 5 a.m. every morning to plan out the day's content. He aims for five stories per day over his 12-hour work day. In Montréal, he works off a big-screen setup with 60 inches of real estate, while on the road he uses a mix of laptop and iPad. He'll even get a couple of stories done over the weekend. Ever since he quit his job, he has not taken a day off work for vacation.
In that time Lambert has witnessed several major shifts in the industry. The Tesla Model 3 entered production in 2017, bringing the firm to a mass market audience. The following year it became the first company to sell more than 200,000 electric cars in the United States, triggering a phase-out of the $7,500 federal tax credit. He's witnessed the rise and fall of Faraday Future, the spark of several unique Chinese automakers, and the sharp ascent of Rivian.
See also: Rivian Founder RJ Scaringe Lays Out the Big Future for Electric Cars
"They're really the most exciting," Lambert says, highlighting how the company operated in stealth mode working on the core technology. Rivian then bought a shuttered factory in Illinois before finally unveiling its work last year and securing funds from the likes of Amazon and Ford. "I think their chances to reach production are almost 100 percent at this point."
As you may expect, Lambert has owned a few EVs. In 2017, he bought a 2012 Tesla Model S P85 Signature. The following year, he got a Tesla Model 3 Performance and let his parents use the Model S instead.
Lambert has also referred more than 50 people to buy a Tesla, enough to earn a free second-generation Roadster, expected to cost $250,000 when it launches next year. Tesla removed this benefit after more than 50 people qualified to receive the car completely free. The Drive criticized Lambert's efforts as "gaming" the referral program.
It's not the first time his neutrality has been called into question. Followers have noted how the publication focuses heavily on Tesla, arguably to the detriment of other brands.
But one major critic of Lambert's Tesla coverage has been Elon Musk himself. In April, the CEO dismissed Lambert as "de facto anti-Tesla," adding that the tone of the Tesla coverage by Electrek had gone negative. "There was a major change in last several months" that "everyone noticed," Musk argued in a tweet.
Lambert admits that "in the last few months" he's been more critical of Tesla, but he cites "weird moves" like online-only sales and a sudden round of layoffs as the reason for that critical view. These changes stung because he knows people affected by them; people who had their compensation cut. Lambert also notes that he owns two Tesla cars and has been a shareholder for "a long time."
"I think there's no way you can describe me as anti-Tesla," Lambert says. "But I think Elon is like most of us online; I'm sure you've experienced this, too. I think we have a very negative bias in our brain, where we see one negative comment, and that's what we focus on. Even though we can have hundreds of positive comments."
Lambert met Musk briefly, amid a crowd at an event with no chance to speak. But he claims that Musk has been following the site since its early days, supporting it by sharing links to his 25 million Twitter followers. Lambert is charitable about the dispute, describing their relationship as an "up-and-down" rollercoaster.
Electrek was borne out of a desire to tell the positive side of the electric car story that otherwise went untold by the mainstream press. Does he feel a duty to avoid speaking negatively?
"That's something that the Tesla fans have been telling me a lot," Lambert says. "'You shouldn't even report on things that are negative, because then they're going to be picked up by other media that are going to make a bigger deal than it is!' I get the argument. My idea is more that I have a responsibility toward the Electrek readers, not the mainstream media readers. So my responsibility is to let my readers know what's going on exactly, and then put it in the most accurate way that I can, and then share my opinion on it in the take."
The "Electrek's Take" section, a feature at the bottom of most articles, is a place for Lambert to weigh in with analysis on news. It's where Lambert's conception of media best shines. He's aware that he has no prior journalism experience, but that "my opinion from consuming news for a very long time is that everyone has a bias." Because bias is an unavoidable byproduct of news, Lambert believes the best approach is to be as unbiased as possible in the first half but use the second half to lay out your thoughts.
"You try to focus on just the facts," Lambert says. "But then you let people know what your opinion is on it. So whether they agree or disagree with your opinion, at least they know who that guy is that wrote those facts."
It's a philosophy that has clearly resonated, criticism or otherwise. Search "Tesla" and chances are Electrek comes up before the New York Times, Wall Street Journal, or many of the other legacy brands.
It seems like mission accomplished. But Lambert's not quite done yet.
"There's going to be a brutal wake-up for many legacy automakers," Lambert says. "Brutal."
"There's going to be a brutal wake-up for many legacy automakers.
By 2025, he predicts there will be a tipping point, where it will no longer make sense to buy an internal combustion car that runs on fossil fuels. That's not because they will be cheaper necessarily, but because they will depreciate so much more than an electric car that people will want to invest in the car of the future.
"I think the resale value of gasoline cars is going to drop massively in the next five years, and predicted value is going to drop even more drastically," Lambert says. "Buying a gasoline car right now is a bad choice. Buying a gasoline car within the next five years is going to be just a financial suicide for most people, for the average buyer."
That means legacy automakers stepping up their plans to get into the space, beyond the Volkswagen I.D. range and the Audi e-tron. Rivian, Tesla, and other startups, which Lambert notes are "very much the only ones that have been successful," will find themselves trailblazers in a new market as legacy automakers play catchup.
As for Tesla? The company could lead the way in autonomous driving, with Musk proclaiming that the "robo-taxi" service will debut next year. This will enable all cars produced since October 2016 to join a fully automated Uber competitor, using the cameras and sensors to earn car owners money. Musk recently predicted that a million autonomous taxis will be capable of being on the road in 2020.
"I'd be pleasantly shocked," Lambert says when I ask him about that prediction. Lambert tells me that he does expect upgrades to the semi-autonomous Tesla Autopilot mode, which drives under certain conditions with a user in the front seat. The machine learning will improve, and the fleet will collect more data — but a full-blown taxi service is unlikely just yet.
"If it doesn't come next year, though, don't think it's going to be too far out. I mean, maybe two or three years," he says.
When Electrek was founded, it was focused on the advent of electric cars. Just as it looks like self-driving technology is about to reach a tipping point, Lambert could suddenly find himself tracking an even bigger transformation.
See also: Fred Lambert: A "Brutal" Wake-Up Call Is Coming for Automakers in 2025
Fred Lambert is a member of the Inverse Future 50.