Tesla Semi's Ambitious Solar-Powered 'Megacharger' Plan Finally Detailed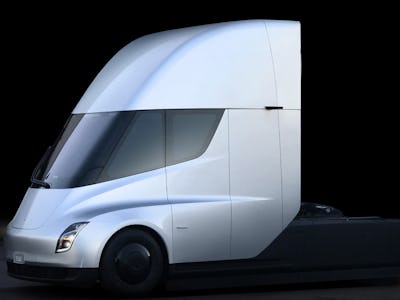 Tesla Semi.
Tesla's plan to electrify the trucking industry is taking shape. The company's semi truck, set to hit the roads in 2019, is set to power up using solar energy charging stations every 400 miles in the United States — capable of bringing the 500-mile model back to full charge in around half an hour. It's a major infrastructure undertaking, and the first details of this plan have finally surfaced.
That plan, outlined by Reuters on Friday, will see Anheuser-Busch, PepsiCo and UPS build their own on-site charge points to aid deliveries. The companies are part of the nine major firms that have pre-ordered the truck, which has a list price starting at $150,000 for the 300-mile model.
For the megachargers themselves, Tesla confirmed to the outlet that it is partnering with major customers to develop the network. With this in mind, the company is taking a two-pronged approach to ensure the trucks can complete deliveries: the previously-announced megacharger stations built with the assistance of big buyers, coupled with access points at major firms strategically positioned to benefit their business. Anheuser-Busch, for example, is set to install equipment at its largest breweries to enable its 40 Tesla Semis to complete deliveries.
Tesla has factored recharge times into its sales pitch for the Semi. The United States requires truck drivers to stop for a 30 minute break every six hours, providing a clear time Tesla can target for convenient recharges. The stations' reliance on solar power also means Tesla plans to provide low-cost energy away from the traditional power grid.
"Because these megachargers are solar-powered, your truck is running on sunlight," CEO Elon Musk said at the truck's unveiling in November 2017.
Watch Musk enter the room with the Semi at its unveiling.
The company faces stiff competition from both the traditional trucking industry and other low-emissions vehicles. A traditional diesel vehicle costs around $120,000 and can be filled up in minutes from an established range of refill stations, but lacks the fuel savings touted by Musk. Meanwhile, the Nikola One hydrogen truck promises fast refuel times with an eco-friendly source, but with a $375,000 price tag, it may appeal to a small niche.