The "Tesla of Trucking" Reveals a Hydrogen-Fueled Big Rig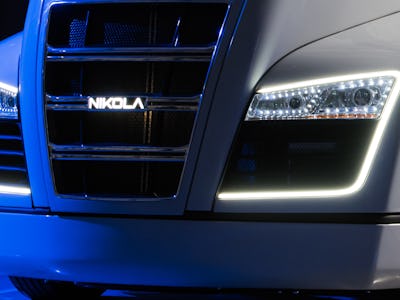 Nikola Motor Company
Nikola Motor Company revealed Thursday night how it plans to become the Tesla of trucking: It unveiled the hydrogen-powered Nikola One, announced that it's going to build a $1 billion manufacturing facility in the United States, and said it wants to establish a network of hydrogen fuel stations in 2018.
Nikola One was originally said to run on a combination of electricity and natural gas. But the company has changed the vehicle to an entirely hydrogen-based model while still maintaining the 800- to 1,200-mile range promised when it started taking pre-orders in May.
The result is a truck with 1,000 horsepower; 2,000 pound-foot of torque; and a payload capacity of 65,000 pounds. Nikola One is also said to accelerate from 0 to 60 miles per hour in just 30 seconds — half the time of diesel trucks — and come to a complete stop with just 250 feet even under a full load.
All of these improvements are supposed to make trucking more environmentally friendly, safer for everyone on the road, and profitable for the companies that rely on these big rigs. It's no wonder, then, that Nikola announced it's racked up nearly $3 billion in pre-orders for the Nikola One.
The vehicles will be made in a $1 billion manufacturing facility. Nikola expects the plant to create 1,000 jobs, and said it's "currently in discussions with several states" to figure out where it will be built. The company expects to decide on the facility's location sometime during the first half of 2017.
That plant will follow Tesla's Gigafactory, which is under construction in Nevada, in giving its respective parent companies more control over how vehicles are made. Construction of the Gigafactory is scheduled to finish in 2018; Nikola's factory is likely to finish construction some afterward.
But the company won't stop there. Building vehicles that rely on renewable energy isn't enough — someone also has to make sure that fuel is available where it's needed. That's why the Federal Highway Administration established "alternative fuel corridors" across the country.
Nikola wants to solve this problem with 364 hydrogen charging stations built across the United States and Canada. The company is offering 1 million miles worth of free fuel, or roughly 1,000 trips at the vehicle's maximum range, with each Nikola One. It will start work on the stations in January 2018.
The plans could have been taken out of Tesla's playbook. Elon Musk's company has helped popularize electric vehicles, used to offer free charging to its customers, and plans to unveil a fleet of semi-autonomous trucks sometime in 2017.
Nikola differs in a few ways. The most obvious is that it isn't dabbling in many different markets, which Tesla is doing by making solar roofs and is catering to individuals with vehicles like the roughly $35,000 Model 3 expected to arrive next year.
There's another differentiator: Nikola isn't rushing to replace truckers with autonomous vehicles. The company is actually catering to drivers — the Nikola One has a large cabin with a 4K TV, internet connectivity, and other amenities that aren't available in more traditional trucks.
Nikola One costs $1,500 to pre-order. It will cost $375,000 when it debuts, but it can also be leased for between $5,000 and $7,000 per month. Nikola said the vehicle will be road-ready in 2019; it also expects to bring the hydrogen fueling stations online around that same time.
Here's the full event: